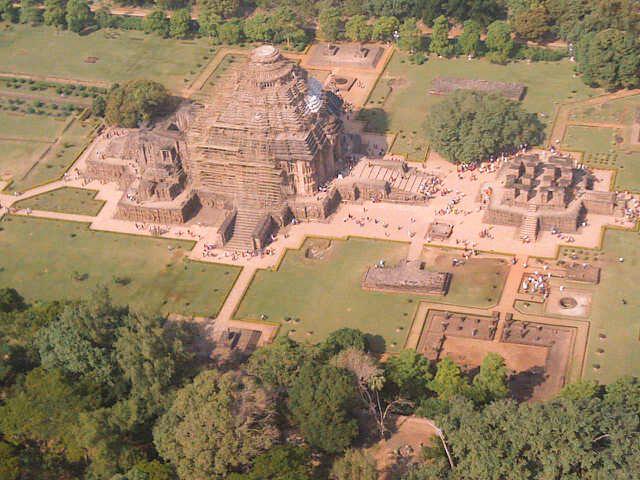 A Son et Lumiere, or a sound and light show, will soon begin at Odisha's famous 13th century Sun Temple at Konark in a bid to ramp up tourist footfalls to the state, a minister has said.
The Archaeological Survey of India (ASI) has already identified the site for the show at Konark, which is listed as a Unesco World Heritage Site.
"There was delay in the execution of the sound and light show at the Sun Temple. However, they (ASI) have already selected the site and work for the show would start soon at Konark," Tourism Minister Ashok Chandra Panda told IANS.
He said the operationalisation of the show would increase tourist inflow to the Black Pagoda, as the main Temple was called ages back by European sailors, for whom it formed an important landmark on their coastal voyage.
The project would be implemented by the Odisha Tourism Development Corporation (OTDC) and the India Tourism Development Corporation (ITDC), he said.
otably, the state tourism department has already signed a memorandum of understanding (MoU) with ITDC for executing sound and light shows at Khandagiri-Udayagiri twin hills, Peace Pagoda at Dhauli and the Konark Sun Temple with an investment of nearly Rs 19 crore (nearly $3 million).
While the project has already been implemented at Dhauli, on the outskirts of Bhubaneswar, the one at Khandagiri-Udayagiri will be taken up at a cost of Rs 6.15 crore and the one at Konark at a cost of Rs 6.06 crore.
The contract to execute the project has been awarded to TricolorIndia Schauspiel Private Limited, the India branch of the UK-based Projection Studio, which executed a similar project at Dhauli, said sources.
The sound and light show, to be designed with 3D projection mapping technology, will be presented in three languages – English, Hindi and Odia. Noted artists from Odia cinema industry and Bollywood will render their voices for the show, an ASI official said.
"The ASI will only give permission for the show in the temple premises. The state government has submitted a proposal and the Director General of ASI would take the final call," ASI superintendent A.K. Patel told IANS.
Last month, the officials of ASI, ITDC and Odisha tourism department had visited the Sun Temple to identify the place for implementing the project.
Courtesy: Zee News
Comments
comments