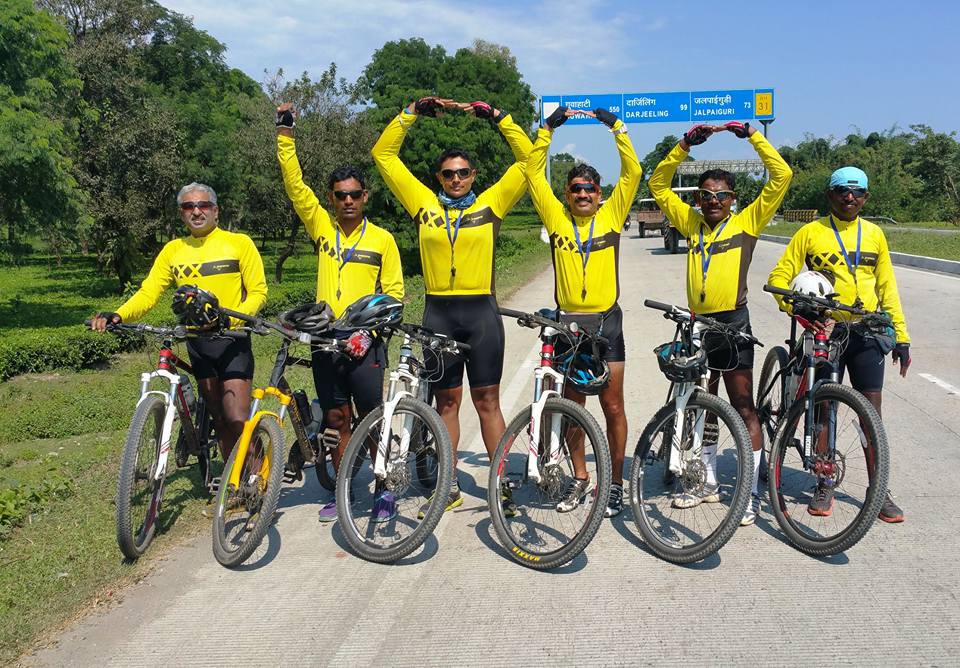 Here is what the team has to write on their Day 8 journey
Day 8 of Bhubaneswar to Bhutan International Cycle Trip
Kishanganj to Jalpaigudi 138 km
We had a nice stay last night at BSF mess at Kishanganj. We assembled at 5.15 for the basic maintenance of our cycles like removing the dust, greasing and checking the air pressure and maintaining air pressure of the tyres of our MTBs at 60-65 psi.
Then we offered our prayer to our BCAC deity "Ghepan Raja".
The sun was just rising. Kishanganj is in Bihar and there was complete election mahul. The road was good with four lanes. There was chillness in the air we cruised at a good speed even through our body was tired after seven days of continuous cycling.
We had paratha at Islampur. Paratha is deep fried here. Paratha was served with "squash" subzi. Some of us had squash for the first time.
We did not remember when we crossed Bihar border, because there was no barrier or check post at interstate border unlike Odisha border. After crossing 82 km we completed 1000 km of our trip and stopped near a tea garden in Darjeeling district to celebrate this enviable feat with a bottle of beer as we did not have a champagne bottle..
With lush green tea garden on both sides, it was great pleasure to cycle through…One can feel the freshness in the air.
During our celebration of 1000 km at about 12 noon about 100 ladies and girls came to the tea garden to pick up tea leaves. They are paid 122 per day for collecting 24 kgs of leaves and they are paid Rs 3.5 for each extra kg. They are also given one day weekly off on Sunday and they work half day on Saturday. Some of them were wearing gloves to improve pluking of leaves.
In order to improve group dynamics we were doing cycling in particular order. For last two days we were cycling in alphabetical order and each cyclist taking the lead for two kilometres on rotation. But Sri Manoj Ahuja said to change the system. We settled on the principle of height and the pecking order was Sri Manoj Prusty, Sri Lalit das, Sri Sanjeeb Panda, Sri Manoj Ahuja, Sir Ajay and Sri Akhay.
We reached Jalpaigudi at about 4 pm covering the distance of distance of
138 km.
Comments
comments