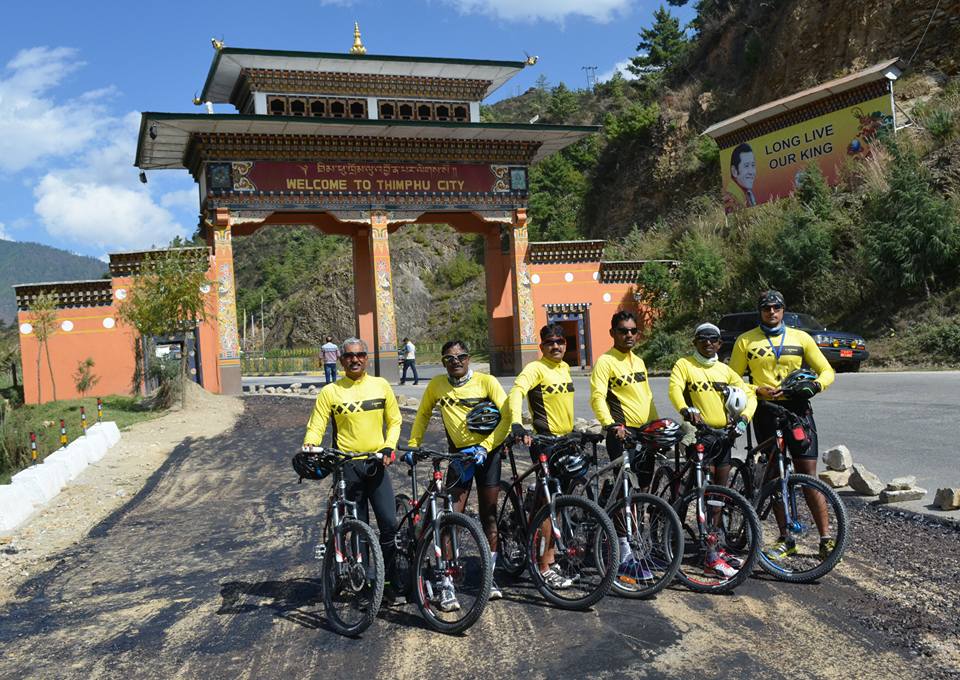 This is what the team wrote on their final day of journey :
Day 11 (last day) of Bhubaneswar to Bhutan International Cycle Trip
Paro to Thimpu 62 km
We were relaxed and started around 8 am after our traditional prayer to our deity " Ghepan Raja". The dress code for the day was yellow t shirt. After cycling for about six kilometres, we stopped at Paro main bazaar for breakfast. We had bread, omelet, capuchino, muffins at Champacha cafe. The decor of the cafe was nice and we enjoyed our breakfast. Also it had free Wi-Fi. We met local cyclist Karma who cycled with us for about 10 km on Paro Chuzong highway. Karma works as a technician in a cycle store and we found him to a avid cyclist.
After about 15 km from Paro, we stopped on the bank of the river Paro Chhu. We dipped our feet in the ice cold flowing water. We also got engaged in throwing flat stones on the surface of the river so that it traveled the maximum distance after having five six jumps. It was quite a scenic spot with crystal clear water and sorrounded by green mountains.
It was bright sunny day with chilling wind hitting strongly from the front. After crossing Chuzong, we moved on Phuentscholing Thimpu highway. We cycled through Thimpu town main street to reach the Yudruk cycling and tours & returned our cycles. The entire stretch of 62 km from Paro to Thimpu is a curvy two lane road passing on the banks of river Paro Chhu and Thimpu Chhu. With tall mountains on both sides, thick foliage of pine trees, it is an unforgettable experience.
In the evening Sri Subrat Das, counsellor at Indian Embassy in Thimpu hosted dinner. The dinner was attended by honorable finance minister of Bhutan, Cabinet Secretary, Secretary economic affairs, Consul General of Bhutan to India at Kolkotta, Chief Election Commissioner of Bhutan and many other VIPs. We are thankful to Sri Subrat Das and madam Suneet Singh for the wonderful evening.
Overall we enjoyed our stay and cycling in Bhutan.
During our eleven days of cycling in our Bhubaneswar to Bhutan International Cycle Trip, we had covered more than 1300 kilometres…
Bhubaneswar Cycling and Adventure Club compliments Sri Manoj Ahuja, Sri Lalit Das, Sri Sanjeeb Panda, Sri Manoj Prusty, Sri Aksharpadma Mahapatra, Sri Ajay Kumar Nanda for participating in this enviable international cycle trip. Last year BCAC had successfully organised Manali to Leh cycle trip.
The club has been able to foster friendship between Bhutan and Odisha through this cycle trip. Also this trip will motivate more and more people in Odisha to take up cycling as a hobby or sports.
Comments
comments