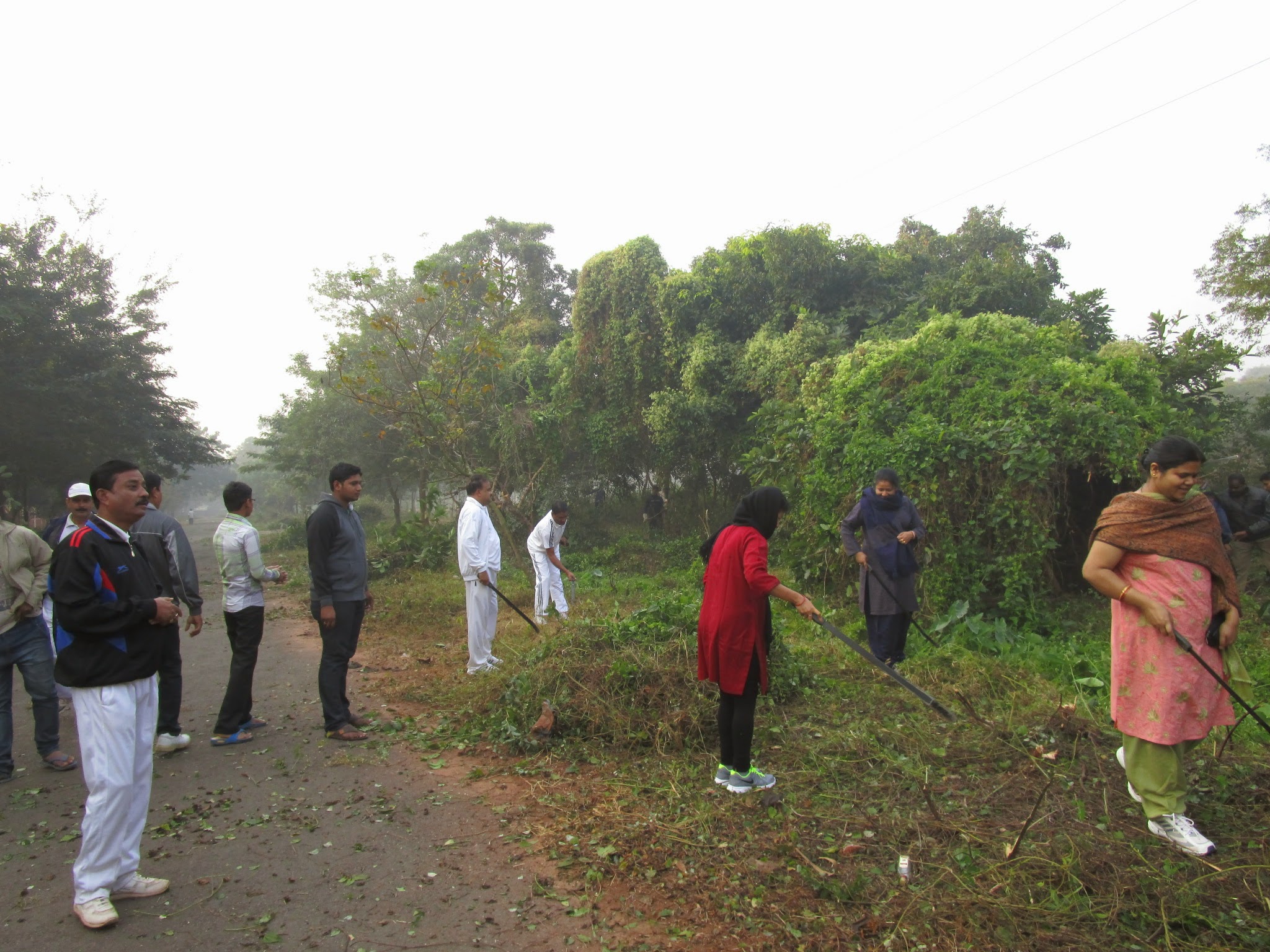 One month ago, one of my friend told me to have "Swachha Bharat Mission" in our capital city, Bhubaneswar as other are following to our popular PM, Narendra ModiJi.
But, my answer was- Two years ago, we (SAMPARK-my trust (NGO), + CRPF, Bhubaneswar )have started this movement, where mass cleaning was carried out in Lingaraj temple, Salia Sahi & Capital Hospital, Bhubaneswar. Besides that we were promoting plantation programme, water pots for Birds during summer , water pans for oxen in Bhubaneswar city. We were covering some places of BMC area.
This time, I talked to Sj T N Khuntia, DIG, CRPF,GC, Bhubaneswar to take this "Swachha Bhubaneswar Abhiyan in a mission mode to give a real meaning to "Clean Bhubaneswar". We decided to take mass cleaning in public/institutions which are neglected since long for some way or other….. We are finding no such public places are clean as we are taking. So, we have decided to approach BMC authorities to support us in terms of logistic provision of transportation of garbage's generated from different public/ Govt. Institutions after mass cleaning completed. For this, I met with BMC, Mayor, Commissionor, Addl Commissionor, Dy. secy, BMC, City Health Officer, BMC, Corporators of operational wards, like minded social activists, NGOs, Simplex Infra-Contractor for NH-05, Addl DG, Fire & Home Guards, NCC directorate, VC, Registrar & Student's union of Utkal University, regional college, OSRTC, Odisha Pollution control Board, Principal BJB College, Secretary, BDA, Pvt. Bus owners Association,Baramunda, Service Providers & Auto Rickshaw owners Association, Baramunda Bus Stand, Stake holders at Capital Hospital, Stake Holders, Principal & staff, Student's union at R D women's Collrge , Govt. ayurvedic Hospital , Maushi Maa Chowk, A C Homeopathic College & Hospital, Bhubaneswar, Dir & Staff of IMMT, Aurobindo Integral School, Khandagiri, Authorities of Maushi Maa temple, member's of Hari Omm Club, Member's of Rotary Club, Sub- Collector & staff, Bhubaneswar Bar Association , Court manager, Registrar, Bhubaneswar Court, Dist. session's Judge , Bhubaneswar and so on………………to give a momentum to this mass cleaning mission.
This way, we found TCS, GITA College, Hari Omm Club, Rotary Club, Souts & Guides of KV2 and some dedicated Social activist & their team members operating locally, who are very much interested to join our team for this "Swachh Bhubaneswar Abhiyan". Some how we are happy that momentum has already been started. We need more strategic operations to aware all the habitats of BMC for sustainability of this cleanliness programme. We are monitoring to concerned authorities ( Where Mass Cleaning has Been Completed) on sustainability of this activity. we are also asking for further help of mass cleaning if they required……?? We asked them to provide Dustbins, functional Urinal & toilets at their place. We offered our technical help for sensitization workshop if required. We will all so offered them our post cleaning consultancy service , if needed. I have a team on Medicinal & Horticultural plants to execute programmes if needed.
We are also on climate change activities & promoting zero waste technology- Wealth out of waste, Promoting portable smart clean Cook stoves, which can solve the problem of Cook+ Mobile Charge+ Light.so on. Some of our NGO & Mead day Meal (MDM) of Govt. of Odisha is looking our Biomass Cook Stove on Deomestic& Institutional purpose, which have less carbon emission, less fire wood requirement, Less cooking time requirement……..so on….
Photos: https://plus.google.com/u/0/101882372320861309402/photos
Contact:
Twitter [email protected]
Linkedin ID-Odisha Sampark Trust
Web-samparktrust.org.in
Comments
comments