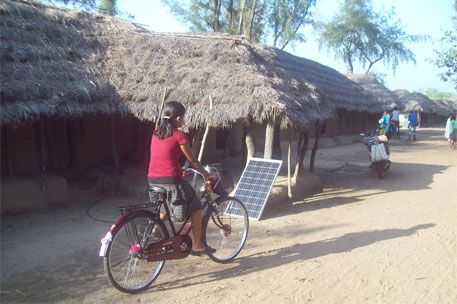 At least 3,500 people in Satabhaya village of Kendrapada district in Odisha have lived without electricity for years. It was only last year that Satabhaya, along with two other villages Rabindrapalli and Barahapur, under Satabhaya gram panchayat started receiving uninterrupted power supply, thanks to solar energy.
"Last year, solar lights changed everything in our village when a few non-profits donated solar lanterns to the residents of the village. Later, many people also purchased solar panels from Odisha Renewable Energy Development Agency (OREDA) and markets in neighbouring Kendrapada and Pattamundai districts to light their houses," says Nigamananda Rout, sarapanch of Satabhaya gram panchayat. He further adds that unlike other towns which witness a few disruptions in power supply, in Satabhaya people can continue to watch television or read without any interruption.
A 20-watt solar light usually costs around Rs 1,200. But those who have television sets prefer to spend another Rs 12,000 to purchase 200-watts solar panels along with a battery which costs Rs 800, said Subrat Jena Grossky, a seller of solar panels in Kendrapada. Therefore, nearly 220 out of 300 houses in the village are now fitted with solar panels and about 150 houses have television sets. "Even during cloudy days, we manage to get around seven to ten hours of energy from these panels," says Rout.
"My son Kartik who works at a plywood factory in Kerala had sent me the money to purchase two solar panels Three months ago. Now, I can happily watch television whenever I wish to," says Giridhari Mallick of the same village.
According to Santaram Prasad Nanda of Save the Children, last year 472 solar lanterns were distributed under "Phailin Recovery Programme" to the residents living by the seaside. The initiative was supported by non-profits Nature's Club and IKEA Foundation and the cost of supplying each lantern was Rs 1190. "The arrival of these lamps has transformed our village.
Now there is some buzz even after sunset," says Bijaya Nayak of Satabhaya. Jiban Mallick (72), another villager in Satabhaya is happy to see that unlike a few years ago, people in this village can be found busy in their chores even after sunset and can lead a comfortable life.
"We can now get rid of the kerosene lamps which are a major health hazard. Moreover, we feel safe at night despite the village being situated within the Bhitarkanika National Park from where animals like wild boars and snakes easily entered our village," says Dibyalochan Rout, a member from Satabhaya panchayat samiti.
Source : Link to the full article
Comments
comments