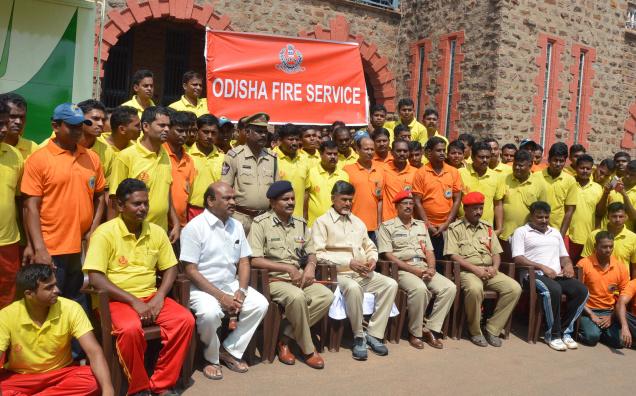 The super cyclone that hit Odisha in 1999 is an eye opener not only for that State but also for the coastal States in the country. But Odisha has evolved faster and better than others.
This was on display as personnel of the Odisha Fire Services, home guards, Civil Defence wing, and Odisha Disaster Rapid Action Force performed their duties in a splendid manner in the Hudhud-ravaged areas in North coastal Andhra.
In all, 453 fire services and 106 ODRAF personnel came to the State in more than 60 compact vehicles, carrying a variety of equipment such as 260 power saws, combi tools, various sizes of cutters, including the one that can cut tree trunks of several feet girth in a few minutes.
Such equipment helped in speeding up the relief works.
The forces were waiting in Odisha districts after a warning was sounded that Hudhud might cause a lot of damage. But when it did not cause much damage, Odisha Chief Minister ordered the officers and men to proceed to North Andhra, Director-General of Odisha Fire Services, Home Guards, and Civil Defence M. Nageswara Rao said here on Sunday.
The forces began their journey on the morning of October 13 and moved into Andhra Pradesh from four directions — Koraput, Rayagada, Parlakimidi, and Berhampur — and commenced clearing the roads as soon as they entered Andhra.
After the super cyclone, the Odisha government had set up fire stations in every Panchayati Samiti.
That is the reason why the State has the highest number of fire stations (335) and has a 6,000-plus force.
Those who have come here are drawn from the fire stations, which are also multi-disaster response centres.
The work done by the Odisha forces received a lot of appreciation from Chief Minister N. Chandrababu Naidu. He met members of the force and posed for a photograph with them.
Odisha is concentrating on community capacity building. Home guards are its auxiliary fire service force and since disaster management is a manpower and equipment-intensive exercise, it is planning to train one per cent of the population in every habitat in containing damage by using locally available material as soon as the disaster occurs.
"This is because 60 per cent deaths occur in the first 30 minutes of a disaster," said Mr. Nageswara Rao.
The trained local persons try to contain the damage before the regular force arrives.
Source: The hindu
Comments
comments