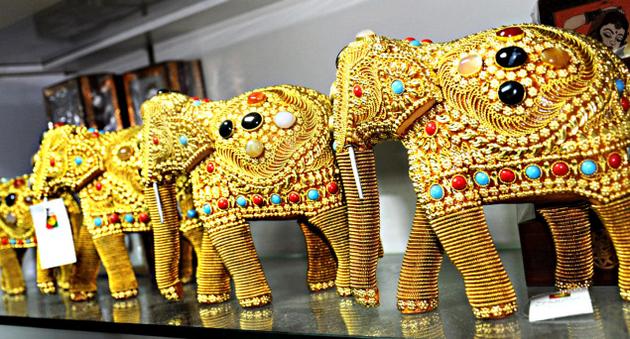 Resplendent in the typically gilded, brass thread-wrapped look of Odisha's dhokraware, the 60 cm Ganesha exudes the charm of tribal art. Nearby stand tribal iron dhokraware figures with details of headgear, dress and water pot beautifully worked out. These are displayed at the 'Tribes of India,' exhibition currently on in the city.
The exhibition displays tribal artefacts from Odisha, Andhra Pradesh, Chattisgarh, Rajasthan and Manipur. Each artefact tells a story about a 5,000-year-old living culture.
The exhibition also showcases paintings and contemporary products. It brings together craft in metal, textiles, clay, cane and bamboo. Odisha presents pretty jewel boxes and artistic dhokra lamps, human figures, gods and goddesses done in the cire perdue process. Also very impressive are the bell metal cows from Chhattisgarh. There are dhokra cows with lace-like jaali work in varied sizes and dhokra collectibles including lamps, bullock carts and coin boxes. Also showcased are jewellery from Odisha and Himachal Pradesh.
'Tribes of India' is an arm of TRIFED, Government of India, that provides a marketing platform for handmade products by the tribals from across the country. The sourcing is done directly from such artisans.
The exhibition is on view till November 30 at shop No.17A and B, Co-optex Ground, Pantheon Road, Egmore.
Source: Hindu
Comments
comments