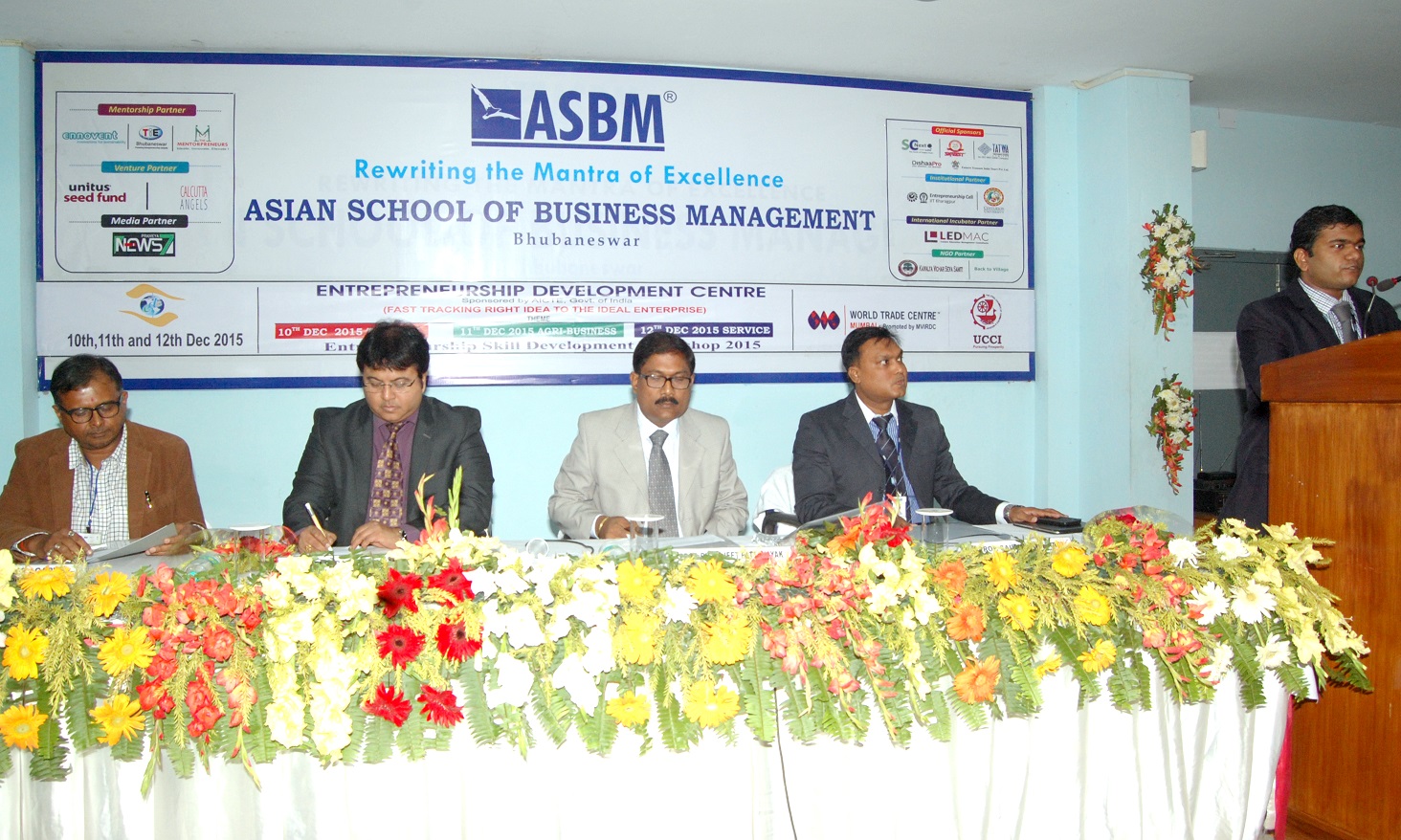 Asian School of Business Management (ASBM), Bhubaneswar conducted
Entrepreneurship Skill Development Workshop on 10th 11th and 12th Dec 2015 at ASBM
Campus in collaboration with Utkal Chamber of Commerce and Industries and WTC,
Bhubaneswar. The workshop first time included the audience from different part of the
world with live session through Webinar. The Bhubaneswar chapter of The Indus
Entrepreneurs (TiE), mentor partner associated with ASBM in guiding the startups for
future venture with institutional partners Entrepreneurship Cell of IIT Kharagpur and
Centurion University. It was the sincere effort from the Coordinator of EDC cell
Prof.Dr.Saikat Gochhait in designing the workshop to assist students with rural
background from different institutes like Centurion University, Affinity B School, KIIT
and ITER and Startups considering starting their own business or have started and are
looking to connect with like-minded entrepreneurs and ways to improve on their
business plans. It covered three basic themes on Tourism, Agri-Business and Service as
a major plus for the workshop attendees of rural background.
At the inauguration of the workshop with floral speech by Shri.Debasish Biswas ,
Country Head of Chartered Institute of Accountant Management focused on "Students
need to focus on the out of box thought process in creating long term enterprises"
followed by welcome speech by ASBM, EDC-Chairman Prof.Dr.Biswajeet Pattanayak to
all 72 Students with rural background from Agri Business department of Centurion
University, Affinity Business School, KIIT, ITER along with the NGO's ,Startup group
from Bhubaneswar and ASBM startup alumni's. Followed by Shri.Sandeep Agarwal,
MD of Swadist Group sharing the experiences as an entrepreneur needs to be having
passion and attitude in opting the next career option as Entrepreneurship.
The speakers in the technical session for the theme on Tourism on 10th Dec 2015 were,
Ms. Sanghamitra Jena, Founder of Nature Camp only women entrepreneur in Odisha in
tourism motivated the student participants on Entrepreneurship as career never talks
on gender inequality and shared the experiences that made her to be successful
Women-prenuer. Post lunch session interaction with Shri Srikant Mishra, Director of
Travel Club India with words of inspiration for budding student entrepreneurs: "small
initiatives from tour operators can show that if you have the will power and passion, then you
can actually win over the hearts of international tourists and they would certainly come to you".
Session followed with speech by Dr.Sibasish Mishra joint secretary of The Indus
Entrepreneurs (TiE) Bhubaneswar, on the draft Startup policy for providing funds for
youth entrepreneurship those who want to start their own business in Odisha.
Last Session of the day one on managing finance with Shri Raja Narayan Tripathy, CA,
Founder of Tripathy & Co, how an youth rural entrepreneurs need the prepare their
business ideas with formulated budgeting for final approval for venture funds.
The speakers in the technical session for the theme on Agri-Business on 11th Dec 2015
were Shri Sushanta Khutia, IIM Ahmadabad Alumni, is a new age entrepreneur shared
his passion in taking up Agri-business venture in Odisha as best career option in life.
The post lunch session workshop followed with an intensive Business Model Canvas
training programme conducted by Prof.Dr.Saikat Gochhait for rural students who want
to start their own enterprise.
Last Session of the day two on managing finance with Shri Santanu Sarma Barua, from
SIDBI on the initiatives undertaken for promoting youth entrepreneurship in the state
for starting a business with website link (http://smallb.sidbi.in/).
The Speakers in the technical session for the theme on Service on 12th Dec 2015 were
Shri, Subhra Subhangini Swain from Dishaapro on the role of the digital marketing in
the enterprises in promoting their business online.
The post lunch session speech by Shri Saumyajit Guha, CEO of Calcutta Angels
Network on how rural youth startups can be outsourced to the right investors for
startup funds in establishing a enterprises. Followed with an inspirational speech by
Local youth Startup and ASBM's Alumni Startup with 22bikes venture in Bhubaneswar.
Last session of the day three concluded with prize and certificate distribution to the best
startup ideas based on the technology, social and service based propositions selected by
Calcutta Angels Network our venture partner.
Comments
comments