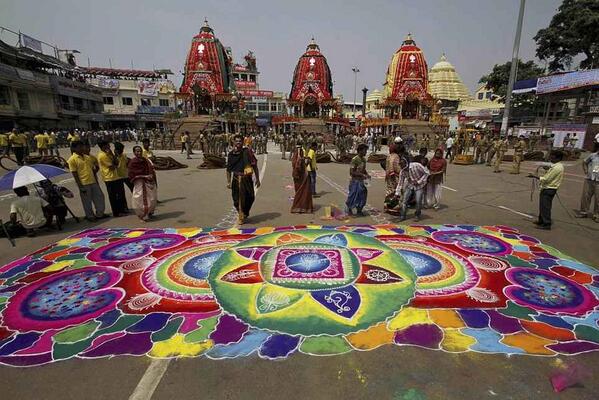 For the first time devotees will have the glimpse of World Famous Rath Jatra during Nabakalebar-2015 through LED large screen while enjoying the serene sea beach of Puri.
Thanks to the initiative of India Tourism Development Corporation Limited (ITDC) to set up one of the three LED large screens at sea beach for benefit of the devotees to have glance of the Trinity on Rath
It has been planned to set up at least three LED large screens at the Puri beach, Jagannath Ballabh Mutt and Shree Gundicha Temple, where devotees will be able to view the Rath Jatra live.  Each LED screen, to be provided by ITDC, will cost around Rs.1.50 crore, said an official
In view of mega religious festival, Nabakalebar, scheduled in 2015, a massive infrastructure development plan has been chalked out by the India Tourism Development Corporation Limited (ITDC) for Puri-Ramchandi-Kakatpur-Dhauli under Mega Circuit Development Scheme at a cost of Rs 25 crore.
Arabinda Kumar Padhee, Commissioner-cum-Secretary Tourism & Culture held talks with senior officials of ITDC here today in
 this regard. Sources said, this initiative was taken by ITDC after Dr.Padhee during his visit to New Delhi, held talks with ITDC's Managing Director Sameer Sharma, Union Secretary Tourism Parvez Diwan and other senior officials.
Accordingly the senior officials presented a Detailed Project Report (DPR) to the State government, which will be taken up by ITDC. The DPR comprises development of Puri beach, which includes illumination at beach through LED Light system, installation of LED large screen, display boards and signages.
Landscaping will be taken up by ITDC with support of Odisha Horticulture Development Society (OHDS), the arm of the State Directorate of Horticulture.
Shree Jagannath Museum and Cultural Complex will be set up at Balia Panda, where a Convention Centre will be set up with 500 sitting capacity with rooms, public convenience and drinking water facilities. There will be an amphitheater for 100 people with food court and other amenities for the tourists.
In order to accommodate more tourists at Puri, a budget hotel will be set up inside the campus of Hotel Nilanchal Ashok, where there is a patch of 2.5 acres of land. Hotel Nilanchal Ashok needs to be revived keeping in the view of huge devotees visiting Puri during Nabakalebar, said the official.  
Similarly, development of Deuli Mutt and Maa Mangala Temple at Kakatpur will be taken up by ITDC.
Development of facilities at Dhauli near River Daya will be taken up by ITDC, which include construction of food court, kiosks, installation of statues and sculptors, toilets at river side etc.
Up-gradation of facilities at Ramchandi Temple is also included in the program, where entrance gate with security guard rooms, sitting platforms around trees and sitting kiosks in garden , up gradation of toilets for ladies and gents, improvement of pathways, jetties, beach development , landscaping , food courts and other facilities.
The infrastructure development program will be taken up in a time bound manner, said sources in Department of Tourism.
Comments
comments