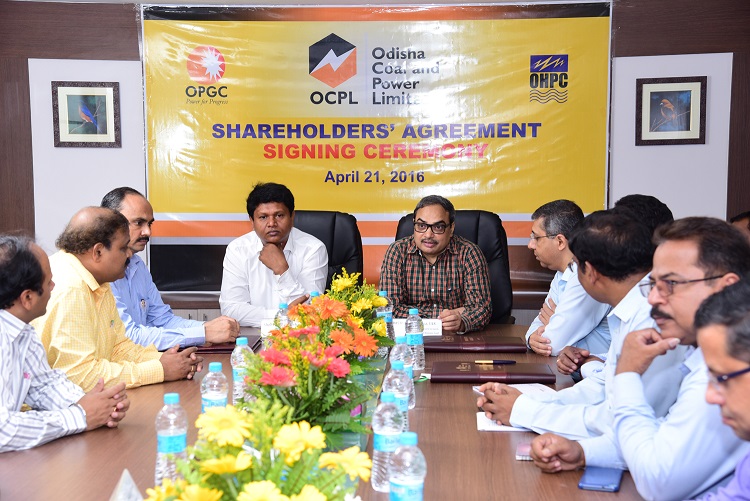 Odisha Power Generation Company Ltd (OPGC) and Odisha Hydro Power Corporation Limited (OHPC), two state government companies, today inked the agreement for formation of a joint venture company Odisha Coal and Power Limited (OCPL), which will develop and operate Manoharpur and Dip-side Manoharpur coal blocks catering the fuel requirement of OPGC's 4×660 MW expansion power project at Ib Thermal Power Station.
In the JV Company, OPGC has a stake of 51% with the remaining 49% being with OHPC, as per the agreement signed today in the presence of Hon'ble Minister for Energy, Electronics & IT, Govt. of Odisha Shri Pranab Prakash Das and Mr. Rajesh Verma, IAS, Principal Secretary to Govt., Dept. of Energy. The signatories to the agreement were Mr. Indranil Dutta, Managing Director, OPGC, Mr. Bijaya Kumar Behera, Director (Finance), OHPC and Mr. Hemant Sharma, IAS, Chairman-cum Managing Director GRIDCO & Director, OCPL. Among others, Directors and senior officials of OPGC and OHPC were also present at the occasion.
OCPL was incorporated on 20.01.2015 as a wholly owned subsidiary company of OPGC and subsequently formed as a JV company between OPGC and OHPC on 21.02.2015 as per the Gazette Notification of Govt. of Odisha. OCPL will have seven Directors in the Board where 4 Directors from OPGC and 3 Directors from OHPC will be nominated by their respective Boards. The Principal Secretary to Govt., Dept. of Energy will be the Chairman of the company.
Allotment Order for two coal blocks namely Manoharpur and Dip-side Manoharpur in Sundargarh district of Odisha was issued by Ministry of Coal, Govt. of India in favour of OCPL on 31.08.2015. The total reserve of these two coal blocks is 531 MT (Manoharpur coal block -181 MT and Dip-side Manoharpur coal block-350). The coal will be produced initially from Manoharpur coal block with rated capacity of 8 MT per annum. The capacity will be further enhanced to 15 MT per annum when unit 5 and 6 of OPGC becomes operational, thus coal from these two mines can meet the fuel requirement of 4×660 MW expansion power project of OPGC. The JV Company plans to start the mine operation by April, 2019 in accordance with the stipulations of the Efficiency Parameters of Allotment Agreement signed with Nominated Authority. Most of the major permits and clearances and regulatory approvals including environment and forest clearance are already in place for the project. A dedicated team of 61 employees working for development of these coal blocks under the leadership of Dr. Kshirod Brahma who is having more than 28 year of experience in mining in different reputed mining organizations. Coal produced at these blocks will be transported from Manoharpur in Sundargarh district to the Ib Thermal power station in Jharsuguda district through a dedicated MGR Rail corridor being constructed by OPGC.
Speaking on the occasion Hon'ble Minister for Energy, Electronics & IT, Government of Odisha, Shri Pranab Prakash Das said, "I congratulate the officials and employees of OPGC and OHPC, two of our leading state PSUs on this momentous occasion in the power sector in Odisha. I am sure with the rich experience, excellent operational standards and people management practices of both the state owned companies, OCPL will progress in leaps and bounds and will surely commence production at the coal blocks before the schedule date.  I appreciate the efforts and speed in which all the necessary statutory approvals and clearances for development of the coal blocks have been obtained and land acquisition for the mining lease area has been progressed. I am sure OCPL will set its own benchmark in efficiency in mining operations and uninterrupted supply of quality coal fulfilling the fuel requirement of the 4×660 MW expansion project of OPGC at Ib Thermal Power Station. This is certainly a positive step towards making Odisha a power surplus state."
Comments
comments