Chilika's calm waters with wide biodiversity including dolphins, migratory birds can turn Exotic location for international SUP enthusiasts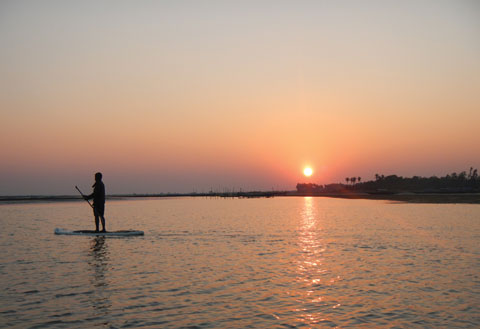 Active 360 recently made the trek to India to see how SUP can be developed and become a sustainable industry.
Lake Chilika is a vast expanse of water spread over the Puri, Khurda and Ganjam districts of Odisha state, on the east coast of India, and offers a whole host of SUP opportunities. Paul Hyman talks story about the trip, what he discovered and how he sees stand up progressing in this outstanding area of natural beauty.
Chilka is unique in many respects. It provides a similar experience to open ocean paddling but with significantly lower risks – freedom to roam, albeit with shores visible (except in the widest parts), lush landscapes and picturesque vistas.
We stopped on an island at the south west end of the lake that was perfect for visitors. Local villagers were welcoming and pleased to provide clean well water and sell us high quality food at low prices. The fish and fresh vegetables we bought from them, and cooked over an open fire, was one of the highlights of the trip.
There were grassy areas for camping and sleeping out and temperatures in early March were very comfortable – a tent was only required in the unlikely event of rain.
The Eastern Ghats in the western part of the lake provide a dramatic mountainous backdrop for paddling and buildings like the historic (C19th) British Tax Collection point provide a unique and easily recognisable landmark. All in all, Chilika is a fabulous destination for stand up paddling.
Chilika conservation
Chilika, for the most part, is a high quality environment and we think SUP could help to protect this by making more people aware of conservation issues and the need to the protect countryside from plastic waste. We found small amounts of debris on our relatively pristine sleeping area – so it would be good to encourage groups of SUP paddlers to clean up an area as part of their trip. In this way they would be contributing to the protection of this unique environment rather than adding to the environmental problem.
At this stage SUP is a very new sport in India and except for the work of Sanjay Samantaray and the Surfing Yogis there is no SUP happening in Odisha – or in North East part of the country. This could soon change, with some assistance and investment from regional government, and Chilika could annually have thousands of SUP visitors within five or ten years.
Source: Active 360 website
Comments
comments