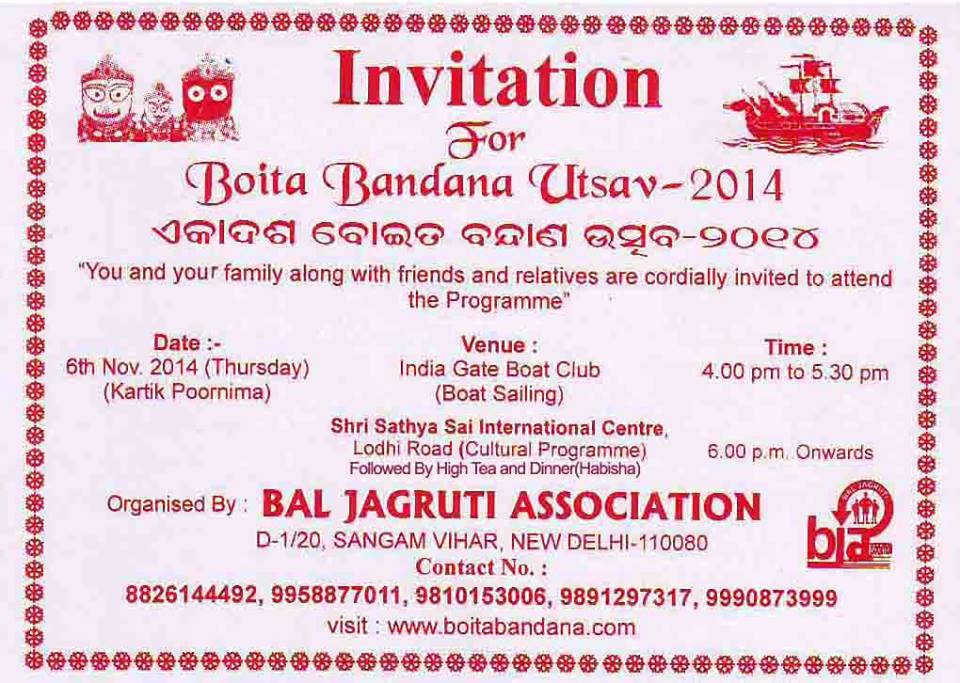 A traditional ovation to the Sadhabas (The ancient Marine Merchants of Odisha) is a symbol of great respect to Odia Culture, observed since hundreds of years on the auspicious Kartika Poornima, the Day when the Sadhabas usually started their voyage to Java, Sumatra, Indonesia.
The unique festival is performed where there is a sea or river with pump and ceremony by the Utkaliyas. This age old wonderful tradition of Utkal (Now Odisha) find its place in Delhi since last 10 years at Yamuna Ghat and India Gate.
Bal Jagruti Association has been celebrating Boita Bandana Utsav in Delhi Since 2004 at Kalindi Kunj on the river bank of the great Yamuna.From 2012 the event is celebrated in India Gate Boating Place.
You would be happy to know that Bal Jagruti Association is celebrating Boita Bandana Utsav for 11th time in Delhi on 6th November 2014 at India Gate Boat Club . The sole purpose of this program is to throw lights on the rich cultural heritage of Odisha at National level.
Comments
comments