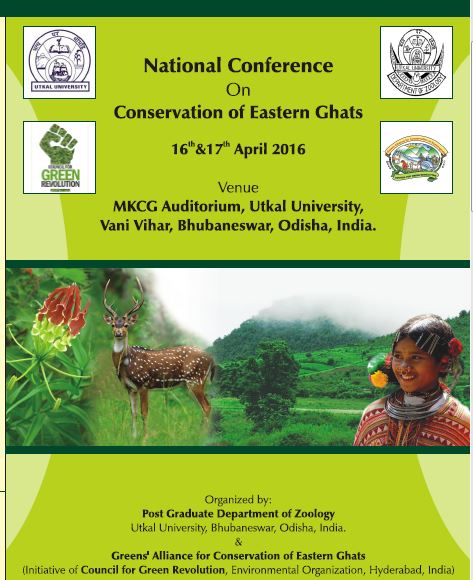 A press conference was organized today in Bhubaneswar for the upcoming National Conference on Conservation of Eastern Ghats is being organized by Council for Green Revolution (CGR) in collaboration with Zoology Department of Utkal University, at Bhubaneswar, on 16th and 17th April, 2016. This conference is being organized as part of activities of Greens' Alliance for Conservation of Eastern Ghats (GrACE), an initiative launched by Council for Green Revolution, a five year old Environment protection organization that aims at sensitizing the concerned and protect the Eastern Ghat hill ranges. Mr. G. Narayan Rao, CEO, Council for Green Revolution addressed the press and briefed about the national conference. Among others, Prof. (Mrs) Pratibha K. Mahapatra, Organizing Convener and Head of the Department, Dept. of Zoology, Utkal University, Dr. Gunanidhi Sahoo, Organising Secretary and Reader, Dept. of Zoology, Utkal University, Dr. K. Purushotham Reddy, Renowned Environmentalist and Sr. Advisor to CGR, Human Rights Activist Mr. Manoj Jena, Social Activist and Organizing Member Mr. Rajeev Patnaik, and Mr. Ch. Uma Maheswar Reddy, Environmentalist were present at the meeting.
Hon'ble Governor of Odisha Dr. S. C. Jamir will be inaugurating the National Conference as Chief Guest of the occasion on 16th April 2016 in the morning 10 AM at MKCG Auditorium, Utkal University, Vani Vihar, Bhubaneswar. The conference will have 12 invited lectures in the technical sessions by eminent academicians, activists and policy experts. The research paper presentations will follow the lead lectures in every session. More than 100 research papers from premier national research institutions, top universities, senior forest administrators and social activists etc will be presented. The Valedictory Function of the National Conference on Conservation of Eastern Ghats will be held on 17th April 2016 from 3 PM onwards at MKCG Auditorium, Utkal University, Bhubaneswar. Prof. Profulla Kumar Mishra, Vice Chancellor, North Odisha University is slated to attend the valedictory function as Chief Guest and Prof. Dr. Naik, former Vice Chancellor, Sambalpur University will attend as the Guest of Honour.
Eastern Ghats in the state of Odisha occupy a centre stage in ecological, economic and socio-cultural development. In view of the significance of Eastern Ghats in the state of Odisha, this conference is being organized jointly with Utkal University, Bhubaneswar. The themes of the conference are: Eastern Ghats ecosystems, Biodiversity and conservation, Sustainable management of natural resources, Indigenous communities, Role of civil society, Legal, policy and designing a governance framework for Eastern Ghats.
Eastern Ghats is a discontinuous range of mountains on the Eastern coast of India. It is an important physiographic unit with immense bio-geographic, environmental, socio-economic, cultural and spiritual significance of our country. The ecosystems in Eastern Ghats are more fragile to degradation owing to fragmented distribution and heavy anthropogenic pressure. Unique species and nature's precincts of the hill ranges are under tremendous pressure. Many scientists have cautioned about the degradation and this warrants immediate attention and action plans to conserve the eco-geo-sphere of Eastern Ghats. Several people's movements' academic and scientific publications have brought the Western Ghats and Himalayas into limelight for conservation. Similar efforts have to be put in to bring the pristine glory of Eastern Ghats considering the urgent need to focus the world attention.
Deforestation, haphazard mining, construction of dams, rapid land use changes, forest fires, temple tourism,  roads, power plants and transmission lines, biopiracy etc., during the last 7 decades, caused irreparable damage to the fragile ecosystems. This has impoverished the local populations and induced aberrations in rainfall patterns. Eastern Ghats are like neglected orphans, neither the central government nor the states' governments have ever initiated a comprehensive policy for the protection of these invaluable natural resources, which is crucial for sustainable development of India. The above concerns have prompted conservationists, academicians and environmentalists to make the protection of Eastern Ghats a common issue, to wage a common struggle for the common future of humanity to ensure sustainable development.
About the Organizers
Council for Green Revolution (CGR) is a five year old Hyderabad based Environmental Organization, registered as a Public Charitable Society. It is founded with concern and commitment towards protection of environment and promotion of sustainable development. CGR is instrumental in planting around 28 lakh saplings in drought prone, semi-arid regions of Telangana and Andhra Pradesh through its Vanaprerana Udyamam by involving school students. CGRs environmental mission includes initiatives such as Green Village, Conservation of Easternghats, Prakrithi-Samskrithi, Environmental Awareness, and Policy Advocacy. Greens Alliance for Conservation of Eastern Ghats (GrACE) was launched by CGR on World Environment Day, the June 5th 2011, at Srisailam in Nallamala ranges, AP, to create a platform for different institutions, civil society groups, individuals for the protection of the hills and its ecosystems. As a part of GrACEs' activities, four regional conventions were organized so far at Andhra University, Visakhapatnam; Acharya Nagarjuna University, Guntur; SRM University, Chennai; and Sri Venkateshwara University, Tirupathi.
Utkal University in Bhubaneswar, Odisha is the 17th oldest university of the country. It is the mother of all universities in the state and has been serving the cause of Higher Education in Odisha. The Post Graduate Department of Zoology, born on 21st July, 1960, has been imparting teaching and training to students in various emerging areas of Zoology through M.Sc., M.Phil. and Ph.D. programmes and a sponsored course in M.Sc. Fishery Science. During the last 55 years, the department has earned many laurels and has made a name in Zoology in the national arena. The department has received funds through DRS (UGC), FIST (DST) and PURSE (DST) schemes.
­—————————————————————————————————————————
For more information please visit; www.conservetheghats.wordpress.com, www.cgrindia.org
Comments
comments