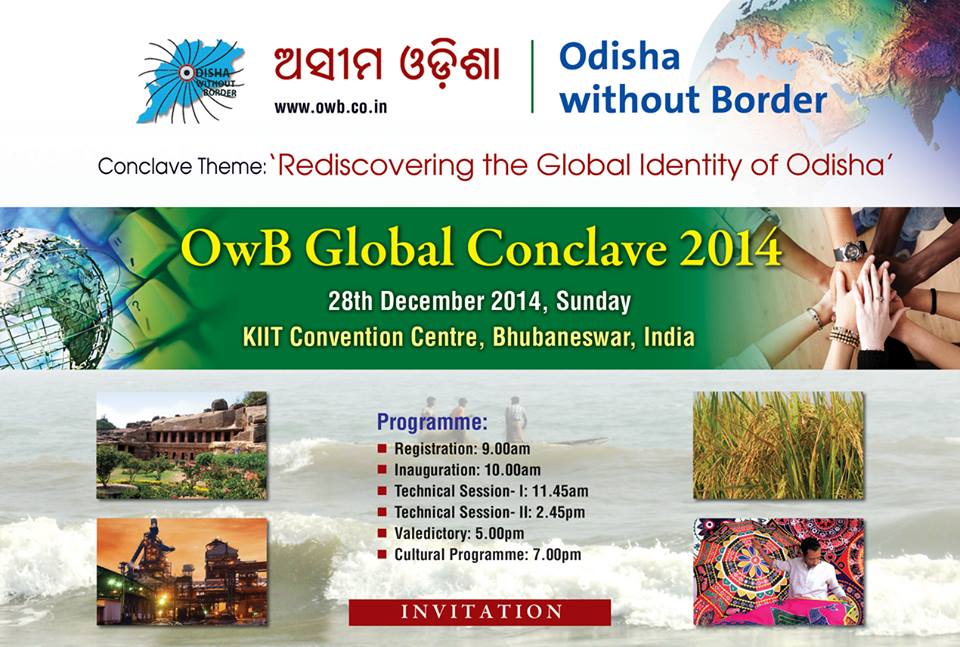 Panel Discussions in the historic assembly of Odias across the globe in the first ever Global Odias' Conclave 2014 by Odisha without Border on 28th December'14 at KIIT Campus-7, Bhubaneswar.
Panel Discussion – I: "Exploring Rapid Economic Development through Entrepreneurship & Skill Development"
Key Speakers:
– Shri Baijayant 'Jay' Panda, Hon'ble MP, Lok Sabha
– Dr. Pravas Kumar Mishra, Former ADG, BSF and Senior Research Fellow, VlF, New Delhi
– Padmashree Dr. R. N. Bastia, Global Exploration Expert
– Dr. Dilip Rath, Lead Economist, World Bank
– Shri Kulamani Biswal, Director (Finance), NTPC
Moderator: Shri Pradipta Kumar Mohapatra, Co-Founder and Chairman, Coaching Foundation India & Former Chairman, CII (SR)
Panel Discussion – II: "Optimizing Brand Odisha – Think Global Act Local"
Key Speakers:
– Shri Ashok Chandra Panda, Hon'ble Minister, Tourism & Culture, Govt. of Odisha
– Smt. Jagi Mangat Panda, Co-Founder and Director, Odisha Television Network
– Shri Harish Bijoor, Brand Expert & CEO Harish Bijoor Consults Inc.
– Dr. Achyuta Samanta, Founder KIIT & KISS
– Shri Debasish Patnaik, Director, Hotel Crown & Member Investment Bhubaneswar
Moderator: Shri Pranab K. Pani, Director, PRCI & Vice Chairman, YCC
OwB national Executive Council welcomes you all to the Global Odias Conclave 2014. It's a great opportunity to listen to these eminent speakers.
Comments
comments