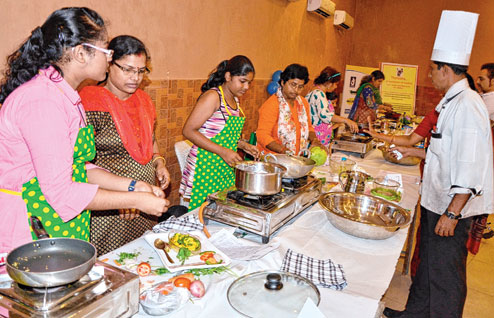 From frying to seasoning and marinating to baking, their culinary skills were equivalent to those of grown-ups.
Displaying an array of innovative and relishing dishes, around 25 young chefs took part in a cooking competition organised at a city hotel today.
Sarvika Narula, a 10-year-old participant, takes pleasure in cooking continental dishes. Accompanied by her mother, the little girl flawlessly seared au gratin, a dish made with a topping of seasoned breadcrumbs and cheese, at the competition.
Her mother, Payal Narula, says Sarvika has been cooking for three years now and has strong taste buds. "Whenever I prepare a dish, she would be the first person to taste and criticise it," said the mother.
The young chefs dished out yummy delights, both vegetarian and non-vegetarian, employing a number of cooking techniques along with using various kinds of sauces and ingredients.
Seven-year-old Karvana Anvika prepared kaju paneer butter masala, adding her own twists to the recipe.
"I love paneer and often create my own recipes using it as the main ingredient. I have used the recipe of butter masala but added kaju to it. I have also used a lot of butter and vegetables in this dish," said Anvika.
Nine-year-old Lohitansh Panda was the only male contestant, who grabbed eyeballs.
The boy wants to become a chef when he grows up and has been assisting his mother in the kitchen since he was five years old.
"Cooking is very challenging, and I love challenges. I want to take up cooking as my profession," said the little boy. "I love to combine various cuisines together to dish out innovative recipes."
The competition was conducted in two groups — 8-12 years and 13-16 years and was judged by professional chefs. The participants were given an hour to prepare the dishes, and their mothers were allowed to assist only with the chopping of the ingredients.
Conducted by an organisation called Thumbelina, the competition aimed to provide a platform to the youngsters to display their culinary skills.
Courtesy: Telegraph
Comments
comments