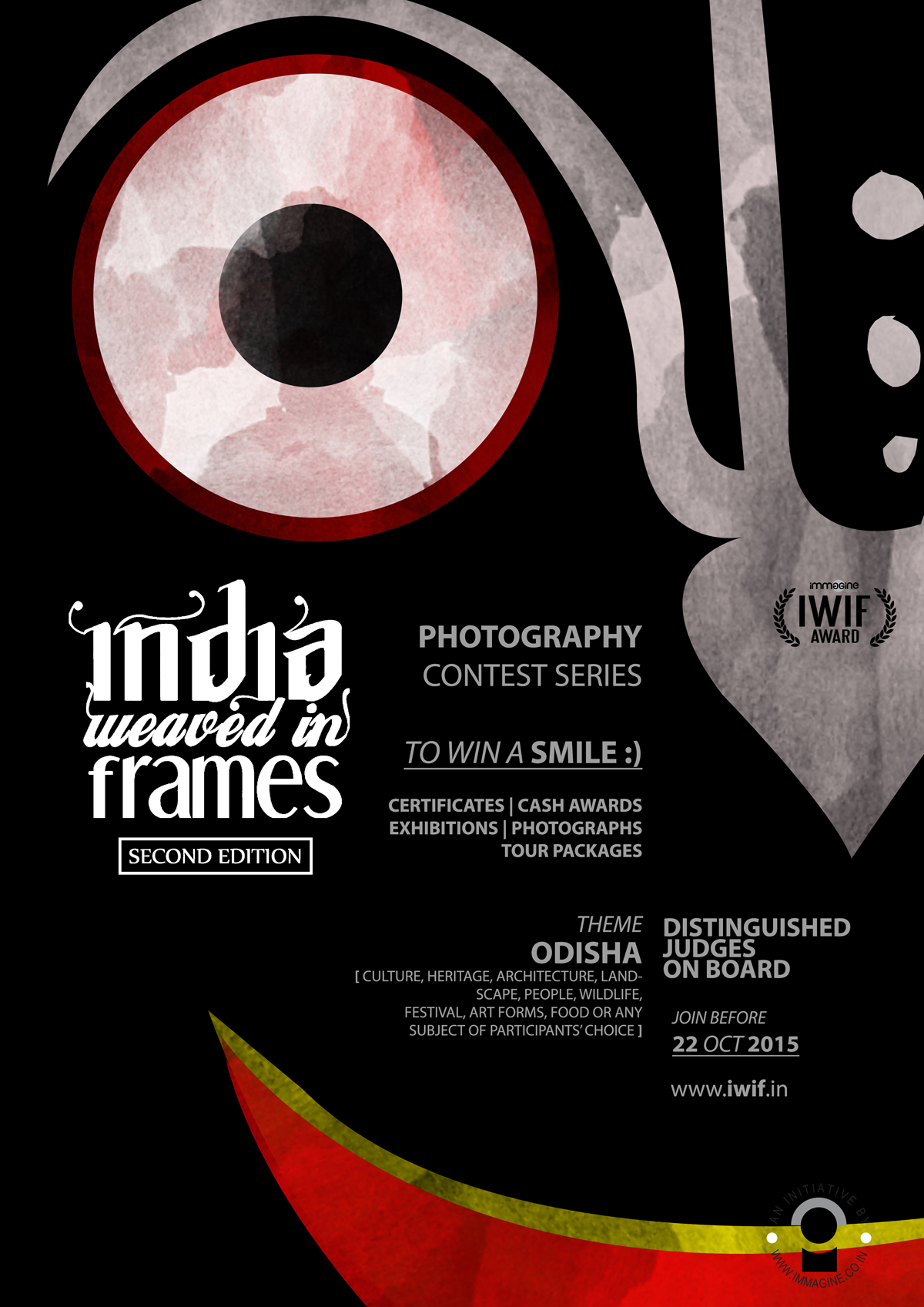 Immagine, an NPO based at Kerala, has announced the second edition of India Weaved in Frames (IWIF) Photography Contest Series and exhibition. The series is aimed at showcasing the great Indian diversity through three frames selected from contests themed on every Indian state and Union territories. All entries to the contest will be published on Immagine's Facebook page, along with their description. This could be a great source of information about all the Indian states at one place. Immagine also hopes that this effort would help photographers and photography enthusiasts across India to learn about the diverse style of photography, and its powerful application. The entire fund, generated by means of entry fees to the contests, sale of photo books, and contributions from the well-wishers, will be utilized for the benefit of children who deserve it. The exhibition will be inaugurated by 30 such children, to represent 30 Indian states, by singing our National Anthem where they get a chance to see India under a roof.
It is now confirmed from the office of Limca Book of Records, the first edition of India Weaved in Frames will feature in the Paintings chapter (under Photography) in the 2016 edition of Limca Book of Records, which will be released in January 2016.
The details of the second edition of the IWIF Photography Contest Series are as below:
Total number of contests is 31, one for every Indian state and one for Union Territories.
Theme of the Contests: Participants can submit photographs showcasing some salient feature of the state they represent. It could be culture, heritage, architecture, landscape, people, wildlife, festival, art forms, or any other subject of their choice.
Entry to the series opens on 15th August, 2015 and will end on 22nd October, 2015.
One contestant can submit a maximum of five entries at iwif.in and entry fee is fixed at Rs. 100 (Rupees Hundred) per entry.
The exhibition is scheduled to be held at Kerala Lalithakala Academy, Durbar Hall Art Gallery Centre (Gallery-D), Ernakulam from 22nd to 26th January, 2016.
Prizes offered are cash awards, certificates, and tour packages. The final winner, selected from all the winners, will receive the IWIF Award consists of a plaque, cash award of Rs. 25,000 and a tour package worth the same amount to visit Kerala during the exhibition days.
Judging panel includes Prof. Shivji Joshi, a photo artist of international repute, from Rajasthan, Mr. Rohinton Mehta, Technical Editor of Smart Photography magazine, from Maharasthra, Mr. Balan Madhan, an internationally acclaimed Wildlife Photographer, from Kerala, Mr. Swarup Dutta, a scenographer and fashion photographer, from West Bengal, Mr. Farooq Javed Khan, a senior Photojournalist and the President of Kashmir Press Photographers Association, from Jammu and Kashmir, and Dr. Mathung Yanthan, a passionate Photographer and Assistant Professor at Kohima Science College.
For Complete details about the Contest Series and submitting entries, please visit www.iwif.in.
About Immagine
Immagine is a Non Profit Organization, for better Photography and better World, based at Kerala, India. Registered as a charitable society; under the Travancore-Cochin Literary, Scientific and Charitable Societies Registration Act, 1955; with the Registration Department, Government of Kerala, Immagine started functioning as a Facebook page since 2 June 2011 for supporting budding photographers. It is engaged in photography related activities like publishing tutorials and interviews and conducting contests, exhibitions, and workshops.
About IWIF
India Weaved in Frames is a series of photography contests, one contest themed on every Indian state, and exhibition and photo book of top three images selected from each contest. The first edition of contest series was conducted from 14th October, 2013 to 9th August, 2014. Top three photographs were selected from each contest by an eminent photographer, as judge, who knows that state well. The final winner was selected by Padmashri Raghu Rai, renowned photographer, from all the contest winners. The exhibition of thus selected photographs was conducted at Kerala Lalithakala Academy, Art Gallery Centre (Durbar Hall), Ernakulam, Kerala 5th to 9th November, 2014 which received good response from the public. It featured 87 images from 29 contests.
For Immagine, India Weaved in Frames is also about fulfilling our social commitment. The funds generated through various means like the photo-book's sales, contributions from the well-wishers and entry fees to the Photography Contests are put together for happiness of children who deserve it.
Contact Information
Contact Person: Manoj KB
+919995000502, +919995464651
Official Email: [email protected]
Contest Website: www.iwif.in
Official Website: www.immagine.co.in
Comments
comments