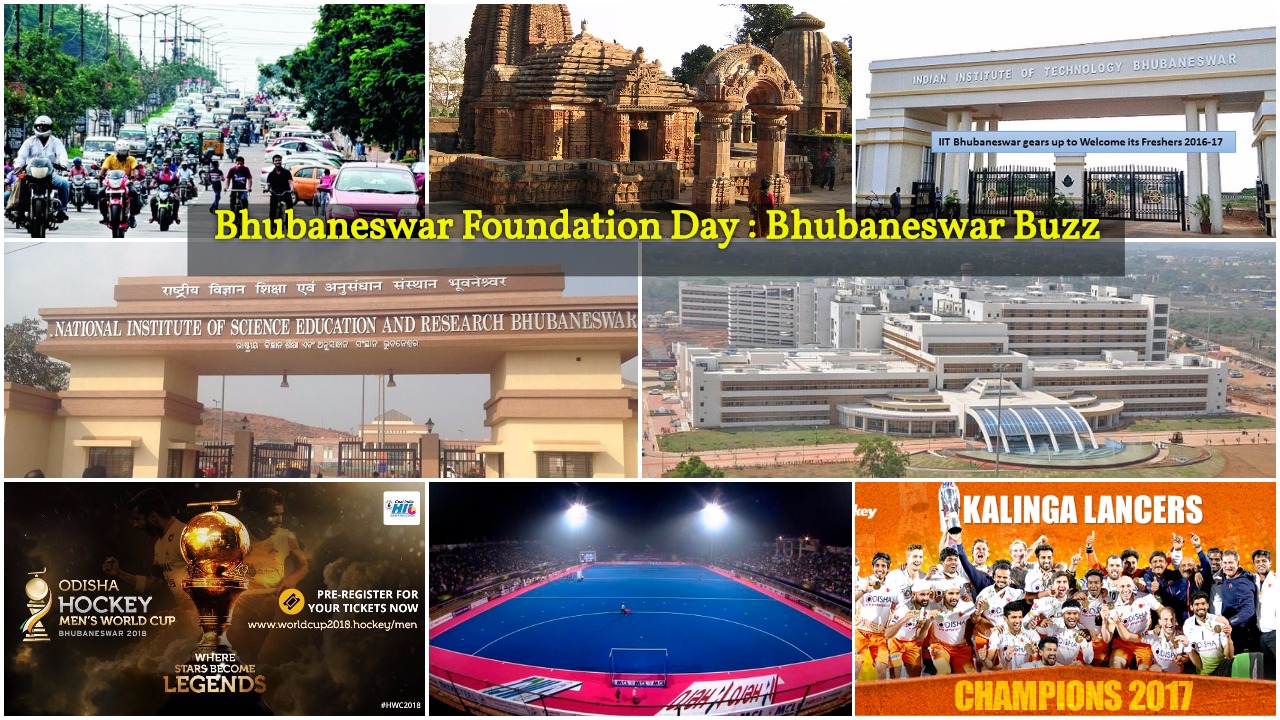 The first Prime Minister of India, Pandit Jawaharlal Nehru, had laid the foundation stone of the city on April 13 in 1948.
Bhubaneswar is supposed to have had over one thousand temples; earning the tag of the Temple City of India.
German town- planning engineer Otto Kolenigs Berger had prepared the master plan of the city.
Eminent German architect and urban planner Otto Koenigsberger prepared the citys first master plan in 1948 for a population of 40,000.
Bhubaneswar was among the first four planned cities of India,
The city has a history of over 3,000 years starting with the Mahamegha-bahana Chedi dynasty (around the 2nd century BCE) which had its capital at Sisupalgarh, nearby.
Bhubaneswar, derived its name fromTribhubaneswar, which literally means the Lord (Eeswar) of the Three World (Tribhuban), which refers to Shiva.
 Bhubaneswar has been known by names such as Toshali, Kalinga Nagari, Nagar Kalinga, Ekamra Kanan, Ekamra Kshetra and Mandira Malini Nagari ("City of Temples").
Bhubaneswar replaced Cuttack as the capital in 1948, the year after India gained its independence from Britain.
Along with Jamshedpur and Chandigarh, it was one of modern India's first planned cities.
Bhubaneswar is on track to be the education hub of the country with several high profile educational institutions already in the city:  IIT Bhubaneswar, International Institute of Information Technology, Bhubaneswar (IIIT-Bh), Xavier Institute of Management (XIMB),Institute of Mathematics and Applications(IOMA), National Institute of Science Education and Research, National Institute of Fashion Technology, Institute of Physics, Institute of Life Sciences, Institute of Minerals and Materials Technology, Central Institute of Freshwater Aquaculture, Regional Medical Research Center and Regional Institute of Education.[75] The other colleges of repute are College of Engineering and Technology, and Central Institute of Plastics Engineering and Technology.
Bhubaneswar's major sporting arena is the Kalinga Stadium, having facilities for athletics, football, hockey, basketball, tennis, table tennis and swimming.
 Kalinga Lancers, the sixth franchise of Hockey India League and Samaleswari S.C., a franchise of I-League 2nd Division, are based in Bhubaneswar with Kalinga Stadium as their home ground.
Kalinga Lancers became the champion of Hockey India League in 2017
Bhubaneswar is all set to host Men's Hockey World Cup 2018 which is now branded as Odisha Hockey World cup.
Cupertino, California which houses the world famous company Apple is considered the sister city of Bhubaneswar. More details here: Cupertino adds Bhubaneswar, India, to its list of sister cities
Nandankanan Zoological Park is a 400-hectare (990-acre) zoo and botanical garden in Bhubaneswar, Odisha, India. Established in 1960, it was opened to the public in 1979 and became the first zoo in India to join World Association of Zoos and Aquariums(WAZA) in 2009.
Nandankanan is famous for its white tiger population, a species it claims to have produced.
Knowledge Companies and HQs: With major Indian software and BPO firms such as Infosys, Tech-Mahindra, TCS, Wipro, Mindfire, Mindspace, Genpact, Firstsource, Mindtree and MphasiS setting shop here, Bhubaneswar is also the eastern India's IT hub.
Bhubaneswar has 5 medical colleges/institutes, about 75 engineering colleges/institutes and about 30 management institutes.
Bhubaneswar is the host to India's first Street Store concept where poor people can shop around for the clothes.
Bhubaneswar is finally going to have an international flight connection starting this month.
In the Smart City proposal contest by center, Bhubaneswar stood number one among the best cities of India with a score of 78.83 points.
Did you know Bhubaneswar Buzz is only portal covering Odisha to have more than 23,500 followers (consistent) in top 3 Social media platforms i.e. Facebook,Twitter and Instagram
Bhubaneswar Buzz is available in 10 social media channels, check out all of them here
Did you know Odisha is first in India to host Asian Surf Championship
Like Us in Facebook to get more content like this
Comments
comments