In a development that is likely to catapult Nandankanan, known for its white tigers, into international limelight, a melanistic (dark skinned) cub was born to a white tigress in the zoo here today.
The cub was part of a litter of four delivered by Sneha, a four-and-a-half-year-old white tigress at an off-exhibit enclosure in Nandankanan zoo. Manish, an eight-year-old Royal Bengal tiger, is the proud father of the cubs.
A zoo official said that one of the four cubs had a high proportion of black colour.
"The CCTV footage showed four cubs, one of them appears to be blackish which is rarest of rare," said Nandankanan director Sudarshan Panda. He said that CCTV footage would be released after 48 hours.
Sources in the forest department said that a black tiger is a rare colour variant and often caused by inbreeding of tigers.
"The black colour is due to pseudo-melanism in which melanin, a dark-coloured pigment is developed in the skin," said a senior forest official.
Prior to this, a rare melanistic or black tiger was photographed in June last year in the core area of the Similipal National Park in Mayurbhanj district.
The Nandankanan zoo is known the world over for its white tigers. It was a unique event celebrated by the zoo when white tigers were born to normal coloured parents in 1980.
At present, the zoo has as many as eight white tigers, including five females. However, the total number of tigers in the zoo has gone up to 27 with the latest births.
A zoo official said that no one is permitted to go near the cubs and its mother.
"We are keeping a tab on the movement of the cubs and the mother through closed-circuit cameras installed in the enclosure. The health condition of the mother and cubs is stable," said a zoo official.
Earlier on January 13, 2012, three normal tigers were born to tigress Sara and Rishi, a white tiger. The zoo authorities are extra cautious as the death of five newborn tigers on November 18, 2011, last year had led to a lot of hue and cry.
All the five cubs had been born to Priyanka, a 12-year-old tigress. Their death had forced the state government to order an inquiry.
"We are constantly monitoring the movement of the cubs and their mother inside the enclosure," said a zoo official.
Source: Telegraph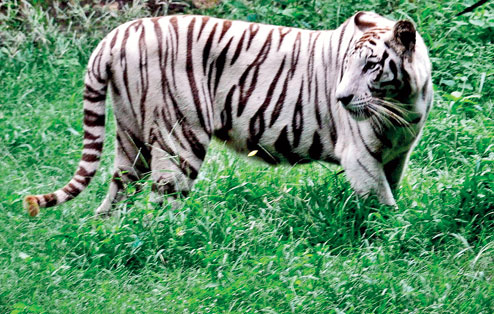 Comments
comments