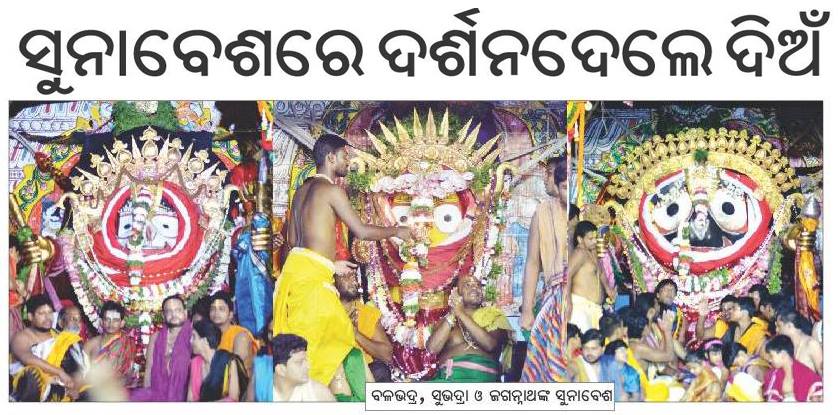 After constructing the temple in 12th century, the Ganga dynasty ruler Chodaganga confirmed the old and made new endowments and also laid the foundation of the administration system in the temple. The Madala Panji records the extencsive endownments in form of land, gold, silver, precious stones etc.
According to the Record of Rights (Part IV), prepared under Sri Jagannath Temple Act,1952; there are 150 items of gold ornaments in the Bahar Bhandar (outer treasury) and 180 items in the Bhitara Bhandar (inner treasury).
The Bahar Bhandar stores, among other things – 3 gold necklaces of the three Lords each weighing 120 tolas; Suna Sri Bhuja (Golden arms adorned during Suna Besa) weighing 818 tolas (Jagannath) and 710 tolas (Balabhadra). The Suna Mukuta (golden crowns) of Jagannath (610 tola), Balabhadra (434 tola) and Subhadra (275 tola).
The Bhitar Bhandar has 180 items of jewellery which includes 74 items of pure gold ornaments, some of which weigh more than 100 tolas each, pearls diamonds, etc. It also houses 146 items made of silver, some of which weigh more than 500 tolas each.
In accordance with the provisions of Sri Jagannath Temple Act, 1954, Section 15 safe custody of the Ratna Bhandar is now vested with the Sri Jagannath Temple Managing Committee
The other important sources of income of the temple are :
1) the sums realized by annually leasing out the rights of what is known as Baje Mahals. The main Baje Mahals are the right to prepare and sell Nirmalya inside the temple premises, the right to sell sweetmeats, the right to sell earthen lamps (Dipa) inside the temple
2) the right to collect money from the pilgrims at Rohini Kunda, Shri Gundicha Mandira and Paduka Kunda; the right to sell flour and spices in the temple, etc.
3) Among other sources of income mention may be made of the fees realised from the pilgrims for having their names inscribed on the stone floors of the temple enclosure, fees realised from the Sevakas at Sadhibandha or first appointment, the sale proceeds of Kothabhoga mahaprasad after Kheis are distributed to various Sevakas, Sale procceds of the wood and cloth used in the cars, fees realised from Dhwajalagi or for having flags and strips of coloured cloth hung from the temple tower, Parimanik or fees realised from the pilgrims for going near the deities beyond the time fixed for Sahanamela, fees for using fans, flyflaps or lighted torches before the gods, and other miscellaneous receipts. Besides some other lands and houses in Puri town and other places are under direct possession of the temple.
4) Donations made by pilgrims
Courtesy: Nabakalebara 2015 page
Also Read: Ever wondered how Lord Jagannath takes bath everyday
Comments
comments