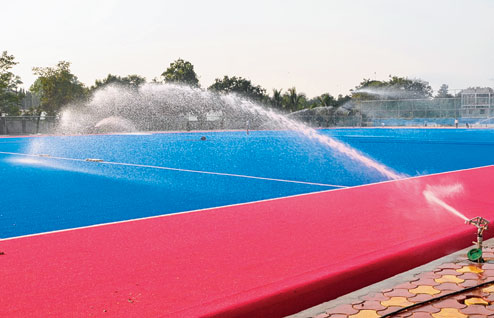 A new synthetic turf has been laid at the Kalinga Sports Complex, which is all set to host the prestigious Champions Trophy. The eight-nation tournament will commence on December 6 and India stands a fair chance to win the trophy.
Labosport officials, who have been authorised by the Federation of International Hockey (FIH), visited the stadium for inspection today. The final will be played on December 14. The French company officials expressed their satisfaction over the preparations. They visited the same stadium in October 2013 when it hosted the second edition of the Hockey India League (HIL).
Officials of state sports department said the installation of floodlights for the practice turf would be completed before the arrival of the teams.
Sports officials said that Holland would be the first team to arrive in Bhubaneswar on November 27. The Indian, Argentine and Australian teams are likely to reach by November 30.
This is the 35th edition of the Champions Trophy. From this year, the tournament will begin to be held biannually due to the introduction of the Hockey World League, thus returning to its original format that was changed after the inaugural tournament in 1978
Comments
comments