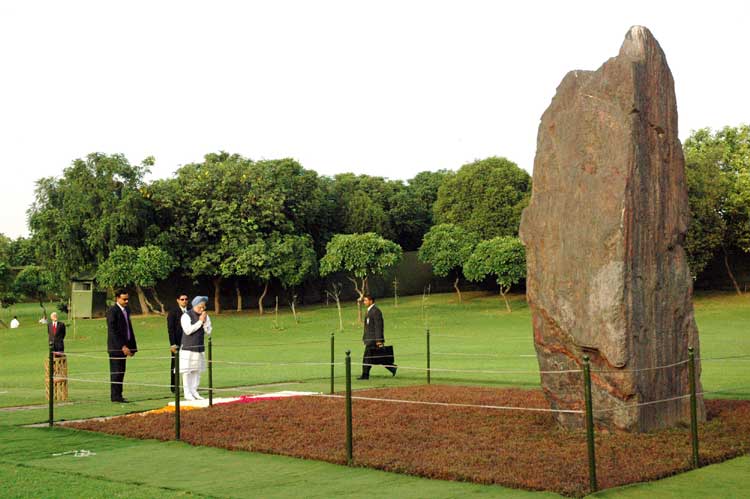 The huge ferrous rock weighing over 25 tonnes, installed at the memorial site of former Prime Minister Indira Gandhi in New Delhi, was sourced from the mines of Sundergarh.
When the then central government had decided to set up a memorial for Mrs Gandhi, it wanted to project her as a lady with an iron will. Hence, it was decided to place a monolithic iron ore rock at the site that was named as Shakti Sthal, which means "Place of Power and Strength". It is situated southeast of Red Fort between banks of the Yamuna river and Mahatma Gandhi Marg.
The rock was located at Barsuan, one of the mines operated by Steel Authority of India Limited, around 100km from Rourkela. The then director-general of the Geological Survey of India, Sailen Mukherjee, led the search operation for the rock. Later, it was placed at Shakti Sthal following the nod of Pupul Jaykar, a close confidant of Mrs Gandhi.
Mrs Gandhi had addressed her last public meeting at the Parade Ground in Bhubaneswar on October 30, 1984. The place is now known as Indira Gandhi Park. However, very few know that Shakti Sthal, the memorial of the slain Prime Minister, too, has an Odisha connection.
Source: Telegraph
Did you know Bhubaneswar Buzz is only portal covering Odisha to have more than 17,000 followers (consistent) in top 3 Social media platforms i.e. Facebook,Twitter and Instagram
Bhubaneswar Buzz is available in 10 social media channels, check out all of them here
Did you know Odisha is first in India to host Asian Surf Championship
Like Us in Facebook to get more content like this
Comments
comments