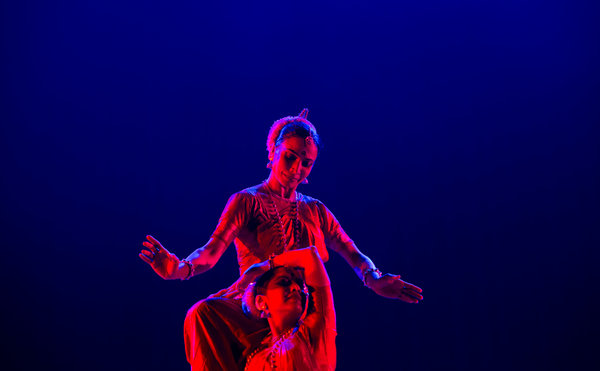 Who are the greatest dancers in the world today? Most of the contenders considered in the West for this category are the roving international stars of ballet. But many of today's finest dance artists have been performing here at the Music Academy's weeklong dance festival, which ends on Friday. Some — all women — have touched on the sublime.
Three have been practitioners of the Odissi genre: Sujata Mohapatra, who performed on Sunday, and the two leading dancers of the Nrityagram company, Surupa Sen and Bijayini Satpathy, who presented solos and duets on Monday. (I'll consider other festival performances next week, some no less superlative.)
Odissi is the classical idiom deriving from the eastern state of Orissa (now named Odisha). Though its roots go back 2,000 years, by the 1940s and '50s it was scarcely known, whereas now it is taught and performed around the world. These three artists exemplify the qualities that have often made Odissi seem the most sensuously poetic of all dance idioms.
All three have pronounced facial and physical beauty — and in the classical dance forms ofIndia the face itself dances and seems to speak. As these dancers move, you see Odissi's intoxicating ability to etch sculptural shapes and then to make them gorgeously liquefy. In particular, you see the creation and change of ravishing S-bends between head and calf, like changing harmonies in music.
The Nrityagram troupe has often performed in the West. The group (consisting of Ms. Sen and Ms. Satpathy, the lighting designer Lynne Fernandez, four male musicians and sometimes other dancers, too) tours the United States most years. In New York, it has given weeklong seasons at the Joyce Theater, and on Saturday it is to perform, for the first time, in the Temple of Dendur at the Metropolitan Museum of Art — the first stop of its United States tour.
Ms. Mohapatra has given a few isolated and admired performances in New York, most recently in 2013. As yet Ms. Mohapatra, artistic director of the Guru Shradha Institute of Odissi Dance in San Francisco, enjoys nothing like the American or European reputation of the Nrityagram artists.
It's fair to say, however, that many people around India's complex dance world consider her the greatest Odissi stylist today. Her credentials are impressive: She is based in Bhubaneswar, the capital of Odisha (and Odissi). (Nrityagram, an hour's drive from Bangalore, is a dance village in Karnataka.) She is also part of the most prestigious Odissi family: Her father-in-law and (for 18 years) teacher, Kelucharan Mohapatra, was the most influential of three gurus whose work was crucial in redeveloping Odissi. More crucially, among the many Indian dancers who sustain 90-minute solo dance programs, she is one of the inspiring few who raise such a recital to a vast span of both movement and spirit.
Felicitously, the two programs show opposite faces of Odissi; to watch both was to feel how immense this genre can be. Ms. Mohapatra's Sunday program, accompanied by four musicians, was an orthodox recital of five items — three choreographed by her father-in-law, two by her husband, Ratikant Mohapatra. Monday's performance by the Nrityagram collective — "Songs of Love and Longing (Exploring the Gita Govinda)," choreographed by Ms. Sen to 12th-century Sanskrit poems set to music by Raghunath Panigrahi (who died in 2013) — emphasized the erotic aspects of Abhinaya (expressive mime and action), love's desire and love's affliction.
Full Article link from New york Times
Comments
comments