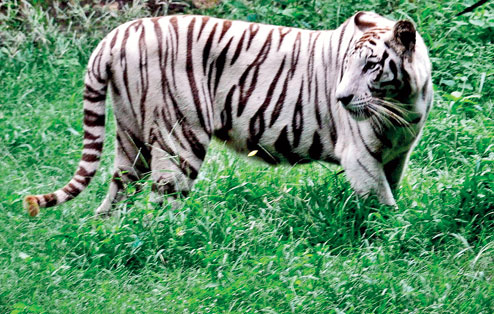 The Nandankanan Zoological Park (meaning Garden of Heavens) in Bhubaneswar comprises the zoo and a botanical garden, part of which is a sanctuary.
Among the 126 species of animals it claims to house, the Royal Bengal White Tiger is Nandankanan Zoo's most prized inhabitant. White tigers are produced by breeding two Bengal Tigers with a recessive gene that controls the colour of their coat.
Carved out of the Chandaka Forest and spread over an area of 4 square kms, this zoo is among the biggest in India and one of the best kept too.
The Nandankanan Zoo started the 'Adopt An Animal' program in 2008 to spread awareness about animal conservation and to raise funds. So, you can offer to pay for the upkeep of this giraffe.
The Elephant Enclosure is right at the beginning of the park and houses juvenile elephants, who can be seen playing with one another. An indulgent mahout keeps an eye on them so that frolic doesn't turn into a fight. As expected, this is one of the most popular spots in the zoo.
The Indian Rhinoceros is also called the Greater One-horned Rhinoceros. Rhinos in Java also have one horn while those in Africa and Sumatra have two horns.
On land, it is the second largest Asian mammal species. Like the Elephant, it is also herbivorous. So much for a vegetarian diet! It loves daily mud baths, which not only keep bugs away but also help it cool off.
The Common Langur or Black Faced Monkey is a lively creature, but not as violent as the Red Faced Monkey. This female Langur at the Nandankanan Zoo was moving around with its baby clinging to its stomach or back, as all mother monkeys do.
If you're carrying foodstuff with you, you would be wise to keep it concealed so that is doesn't get snatched away by monkeys.
There are two kinds of bears in India – the Asiatic Black Bear and the Sloth Bear. While both might appear similar, the Sloth Bear has a longer face and snout while the Black Bear has a more prominent white or brown chest patch.
The ones featured here are a mother and a playful cub. At Nandankanan Zoo, they have a comfortably large enclosure, with trees and a moat filled with water.
Nandankanan Zoo's reptile park is home to several species of snakes, crocodiles and turtles.
The Zoo began a captive breeding program for Gharials in 1980 and now has the largest enclosure for them in India. The male Gharial has a distinct swelling at the end of its snout, resembling an Indian pot.
The Malayan Gharial is similar to a Gharial, but its snout widens greatly at the base, earning it the name 'False Gharial'.
More than 2 million visitors come to Nandankanan Zoo every year. The park is closed every Monday and remains open from 8 am to 5 pm on other days. Facilities like this map are of immense help to visitors in this huge Park.
Senior citizens and parents with little kids needn't worry – battery operated vehicles take you around for a price (cost not included in entrance fees). The Zoo also offers boating at the lake and operates a safari.
Source: MoneyControl.com TravelCafe
Comments
comments