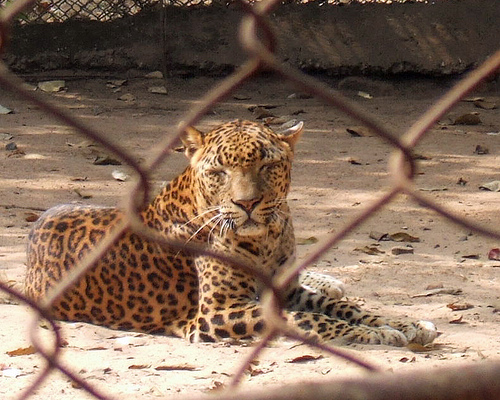 Odisha Forest and Environment minister Bikram Keshari Arukh today inaugurated the country's largest open top leopard enclosure and a 'walk through aviary' inside the Nandankanan Zoo on the outskirt of the Odisha's capital on the occasion of its 55th foundation day today.
Built in an area of 1150 sq km, the leopard enclosure is surrounded by an 18-feet boundary wall.
For the safety of the visitors, the distance of 20 feet has been made between the enclosure and the visitors' viewing place. Besides, for additional safety measures, wire meshing has been installed atop the boundary wall with four-feet of tin plates charged with solar electric current.
The zoo authorities have released three leopards inside the enclosure which has three banyan trees.
Built at an area of 2200 sq feet at an estimated cost of Rs 60 lakh, the walk through aviary features a variety of bird species and number of artificial fountains and water bodies. Separate path for visitors has been created in the aviary to ensure the free movement of the birds.
The zoo authorities have procured three pairs of golden pheasants and two pairs of silver pheasants for the aviary. Besides, Mandarin ducks and Lories (small to medium-sized arboreal parrots) are the other attraction in the aviary.
The zoo officials have made special arrangements for the birds to build their nests and lay eggs inside the aviary.
Comments
comments