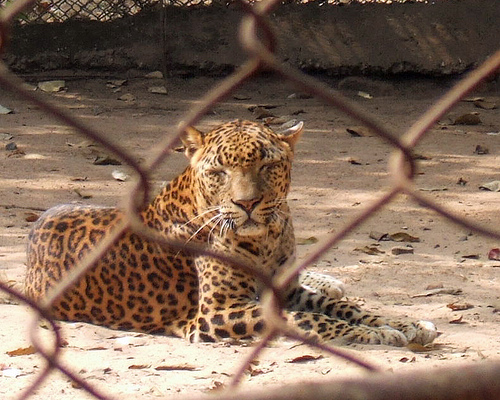 Visitors will have a better view of leopards to be kept in a newly built open-air enclosure at the Nandankanan Zoological Park.
The park will be the third zoo in the country after Gangtok and Aizawl to have such an enclosure with an 8,000-volt solar powered electric fence for housing leopards.
The enclosure is designed in a manner that visitors can have a clear view of the animals. The visitor's area will have no mesh wire fencing but a low concrete wall for protection.
The enclosure is likely to be opened on or before the foundation day of the zoo on December 29. The construction of the enclosure is, however, complete.
Leopards are usually kept inside closed enclosures with the entire area under an iron mesh structure, because the animals are expert climbers and can climb up any kind of fencing. The new enclosure will have such an arrangement that if at all, a leopard manages to climb up the wall and touches the outer layer of fencing, an instant electric current of 8,000-volt will strike it for a moment forcing it to retreat to its enclosure.
Comments
comments