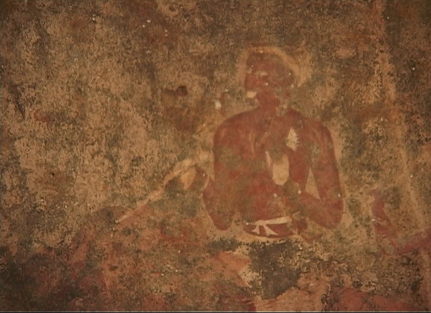 The ancient kingdom of Kalinga, which was invaded by the Mauryan emperor Ashoka in 261 BC resulting in the bloody Kalinga War, coincides with the modern day Odisha. The modern state of Orissa was established on 1 April 1936, as a province in British India and consisted predominantly of Oriya speaking regions. In this eastern state of India lies the hub of ancient painting, Sitabinji.
Sitabinji, a village near Keonjar district of Odisha is popularly known for the conservation of an ancient painting form created by tempera method. The 1300 to 1500 years old painting lies in between two giant boulders known as Ravana Chhaya. The place attained its name after the stream Sita that flows nearby.
According to Hindu Mythology, the name Ravana Chhaya means the "Shadow of Ravana", the King of Lanka.
Architecture
There is a gap between two rock boulders of granite with a beautiful tempera art which is not linked with any religious beliefs and shows the prospect of royal procession. The bigger boulder is inclined towards smaller boulder, making a triangular gap in between which is  6.7 m in height and 4.7 m in depth.
Significance
The significance of the cave can be mapped in the ancient times, even before the art work was created. The cave was used by the followers of lord Shiva around 4th – 6th century AD. There they worshipped Mukha Linga, the linga with four faces of lord Shiva that still exist in the Sitabinji region and depicts that lord Shiva was very popular in Odisha during the 5th century AD.
Archaeology
The site contains fragments of bricks with Pali inscriptions. Soapstone figurines and Kushan coins were also found in the region along with the paintings older than Mesolithic period which is sometimes also referred as "the paintings of Sitabinji."
Historical Significance
The tempera art form of Ravana Chhaya can be called as a marvel attained in ancient times. The rough layer of granite was smoothened with an aid of lime before carving the painting on a big boulder of rock, which is done with great perfection and dedication. The painting depicts the royal procession as a royal figure sitting on an elephant with a sword in hand, followed by women attendants and a few horsemen which is very less in common with Hindu religion. The theme of this carving is considered as a shelter for a royal retreat while hunting.
Below the painting there are verses inscribed in Sanskrit that describes the scene and its history. The engraved stone shows the name of king as Maharaja Sri Disabhanja, considered to be the earliest Bhanja king.
Comments
comments