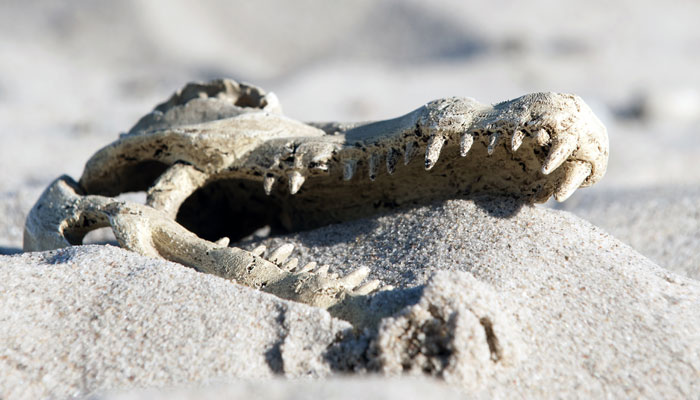 Bhitarkanika National Park authorities in Kendrapara district have decided to preserve the skeletal remains of an 18.5 feet long male crocodile, one of the giant size crocs in Bhitarkanika.
The carcass of the giant size male crocodile was retrieved near a creek of the national park earlier last month.
Since the crocodile was one of the largest crocs in Bhitarkanika, its skeleton would arouse interest among the visitors and so it was decided to preserve it in the interpretation centre museum of the national park.
For the preservation, herpetologists would be pressed into service and skeletal mounting work would be conducted from the reptile?s bones and skull. It would then be joined together by skilled personnel. The skeleton would be preserved by the latest chemical treatment technique to keep the trophy intact, added Nayak.
Bhitarkanika has the distinction of housing 22 feet long crocodile, which is the world's largest living crocodile as per Guinness Book of World Record and the national park is home to 1665 salt water crocodiles in creeks and water-bodies as per the 2015 census of these animals.
At least three giant size crocodiles above 20 feet long were spotted during the annual enumeration operation this year.
The internationally acclaimed Bhitarkanika Ramsar wetland site continues to be the congenial habitat of salt-water crocodiles with the swampy mangrove-infested region housing the largest number of these reptiles.
The region is crisscrossed by innumerable water inlets, creeks and nullahs all forming the part of Bhitarkanika river system.
source: Zee News
Also Read: Bhitarkanika has more Dolphins in Odisha than Chilika Lake
Comments
comments