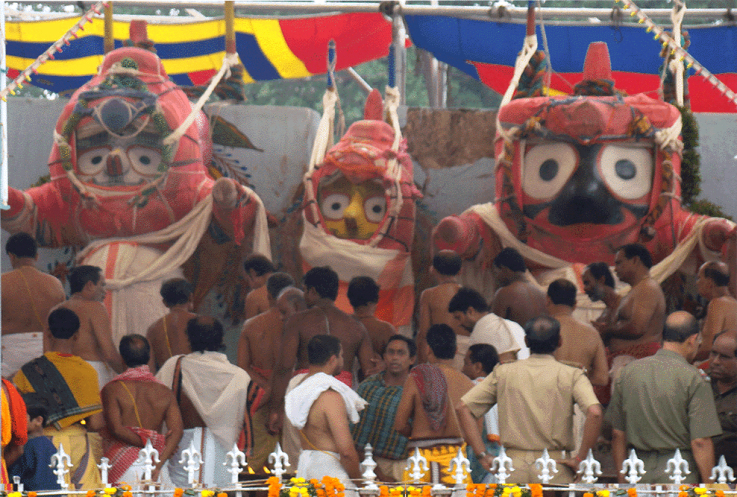 Every morning, after the Dwarfita (opening of the gates), Mangala Arati and Mailam (removal of flowers, clothes etc. from the previous night) is performed. After these rituals, the ritual of 'Abakash' is performed, which includes cleaning of teeth of the deities and bathing them.
The Sevaks show tooth-sticks and tongue-scrappers to the Deities symbolizing cleaning of their teeth and tongues.
The articles required for the daily rituals in the Sri Jagannath temple at Puri, include three mirrors. The mirrors are made of brass having no part of glass, each about two and half feet high. They are disc-shaped with a stand. Both the surfaces of the disc are well polished. The Pushpalak Sevaks perform the abakash ritual sitting on the floor below the Ratnavedi (Pedestal) in the sanctum sanctorum of the temple. They sprinkle water mixed with camphor, curd, sandal paste and amla fruit- paste on the three brass mirrors placed on the floor, one each for the three Deities – Lord Balabhadra, Lord Jagannath and Devi Subhadra. This sprinkling of water symbolises the bathing of the three Lords.
The Sevaks (Servitors) associated with this service are Pushpalak (3 persons), Paniapat, Suarbadu, Khatulisevak, Mukhapakhala-Padhiary, Mukhapakhala-Puspalak, Garabadu, Amla-Ghatuary, Mahabhoi, Jyotisha-Khurinayak, Bhandar-Mekap and Darpania.
Source: Nabakalebara 2015 page
Also Read: Puri Jagannath Rath yatra: Know more about parts of a chariot
Comments
comments