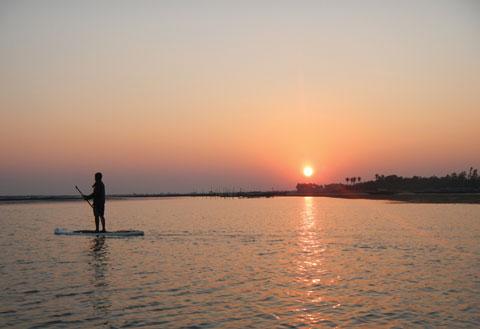 Swosti Group, a hospitality and travel company based in Bhubaneswar, Odisha is the first hotel company in the state to receive a clearance from the Ministry of Environment and Forests for setting up a resort on one of the 26 islands at Chilika Lake. To be built across nine acres of land, Swosti Chilika Resort would be the first luxury resort in Odisha set to be launched by October 2016. Currently the hotel company is on the lookout for an international hotel operator who would be keen to run the resort.
J K Mohanty, Managing Director, Swosti Group said, "The construction work of Swosti Chilika Resort has commenced and we plan to unveil it by October next year. The property will comprise two blocks, one would be the hotel block with 36 luxury rooms and the resort block will have 36 villas including a Presidential villa, each with a pool. The mesmerising location – Chilika Lake is an eco-wonder that attracts migratory birds from Siberian countries. Starting November to February end, millions of migratory birds flock down to the phenomenal lake thus creating a mesmerising site for the tourists. We aim to capitalise on the same."
Elaborating on the other details Mohanty revealed that he aims to establish a spa at the property and is busy scouting for spa brand managers. A Sports Bar will also be an integral part of the property along with a tall bird watching tower. There are no houseboats in Odisha so far and he plans to pioneer with two of them at the upcoming property. Water activities and sports would be promoted at the resort. The project would feature a yoga centre, herbal gardens, large water bodies, badminton and tennis court and facilities for conferencing and bicycle tours. We intend to set up cooking classes' workshop for foreign tourists. We are also making provisions for helicopter landing inside the resort, he added.
Also Read: Away From the World – Marooned at Chilika Lagoon
Comments
comments