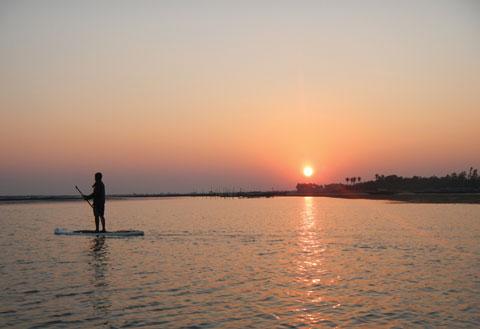 The state government will organize Chilika Mahotsav at Satapada from January 11 with an aim to promote Chilika as a major tourist destination and highlight its unique flora and fauna.
The three-day festival will include various activities, including water sports, cultural performances, craft fair, and also dish out some mouthwatering food.
The festival is an attempt to promote lesser known tourist places like Satapada and divert tourists from Puri and Konark. It used to be a two-day affair, but this year onwards it will be a three-day festival
The festival will be inaugurated with a boat and a torch rally from Kalijai to Satapada, in which over 50 decorated boats with banners carrying messages on the need and ways to conserve Chilika Lake will take part. Tourists can also enjoy water sports such as scuba diving and surfing during the festival facilitated by scuba diver Sabir Bux.
A variety of cultural programmes by established and local artists will be held on all three days. Traditional folk arts like gotipua, jodi sankha, ranapa, chhau, mahari, Manipuri, kathak, ghumura, sambalpuri, bihu will be performed. Prince Dance group will also perform on the occasion.
During this period, a huge variety of migratory birds flock to Chilika. A large number of foreign tourists visit this place during this season. Therefore, the festival will add another reason for tourists to plan a visit to Chilika
Another such festival will be conducted at Talasari beach from January 27-30 where dance and cultural programmes, along with a food festival will be held.
Comments
comments