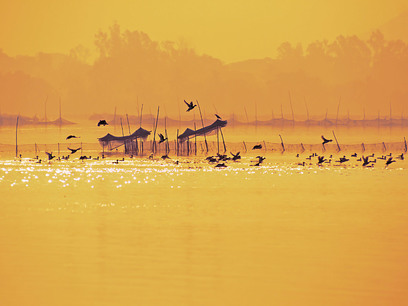 Chilika, one of Asia's largest salt-water lakes and is ideally located to the East coast of India, in one of India's most enchanting state – Orissa. This picturesque pear shaped lake is shallow and stretches for almost 70 Kms. With a surface area, which is all of 1,000 Sq.Kms, Chilika is easily India's largest Lagoon. This unusual lake extends all the way to the twin districts of Ganjam and Puri. The undulating hillocks of the Eastern Ghats provides a picture perfect backdrop to the lake.
For the quintessential Bengali from West Bengal, Orissa is much preferred tourist destination. Every year millions of Bengali tourists from Calcutta and other parts of Bengal visit the state of Orissa. Most visitors from Bengal go on pilgrimage to Puri's Jagganath Temple and compliments the tour with visits to other places of tourist interest like Bhubaneswar, Cuttack, the islands of Bhitarkanika, Simlipal Tiger Reserve and of course the treasured Chilika Lake.
From Calcutta, almost all southbound trains halt at Balugaon, which happens to be the nearest railhead from Chilika. In fact from Balugaon, Lake Chilika is a mere 12 Kms. I along with my family had been to Orissa a number of times. Most of the time, our visits were confined to Puri's Jagganath Temple since my Mom is a devout worshipper of Lord Jagganath.
A couple of years back, a Puri hotel owner who has been receiving us as guests for a number of years, suggested that we visit the world famous Chilika Lake. When I made further queries like why is it so famous, how does one reach there and so on, he took me to the local Tourist office of Orissa Tourism. There, I was enthralled by the half-hour documentary on Lake Chilika, which the Tourist Officer had kindly arranged for me. Post documentary, there was no looking back.
I hired a cab and embarked on my journey to Chilika, which was located at a distance of 167 Kms from Puri. I must say the drive was beautiful as we crisscrossed quaint Orissa villages. The Orissa countryside looked verdant. The sight of tribal women working on knee deep waters on the paddy fields and the men folk ploughing their fields with Ox and Buffaloes was straight out of an India I never knew existed.
By the time we arrived at Chilika, dusk had already descended. My Oriya driver Narendranath Patnaik asked me whether I intended to stay at a hotel or if I agreed, he could even make arrangements for a home stay with a local fisherman's family. On further inquiry, he revealed rather coyly that his own maternal uncle, a fisherman by profession resided just half a kilometer away from Chilika Lake.
The idea of a home stay appealed to me. I knew deep inside that being a guest of a local fisherman would be infinitely more rewarding then staying at a luxurious hotel where in the garb of professionalism, one tends to miss out on the human relations bit.
As the car stopped in front of a simple looking thatched hut, the kind which is found in rural Orissa, I and my mate Narendranath got down and after a short walk we entered his uncle's hut. The children, all aged between 3-10 years, were overjoyed at the sight of a car. Probably they had never seen a car before and so were having one hell of a time.
For full blog:
http://wsimag.com/travel/11852-away-from-the-world
Comments
comments