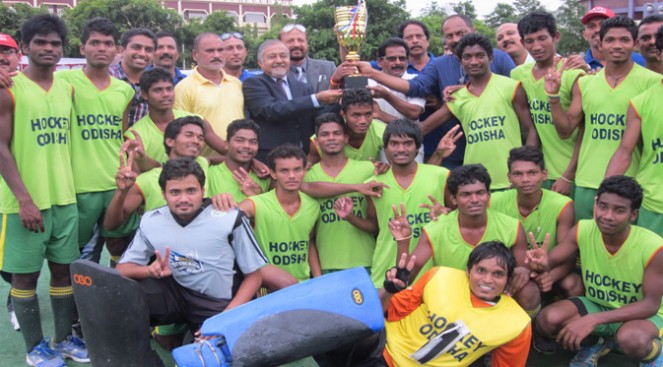 Hockey Odisha team finally took the field with a victory against Hockey Punjab, 4-3 and claimed the title of the 5th Junior National Hockey Championship 2015 (Men) 'A'' Division.
The Finals of the 5th Junior National Hockey Championship 2015 (Men) ''A'' Division lived up to to the moment as the clash was intense and exciting and which kept the spectators at the stadium and hockey fans across India glued onto the match which was even viewed LIVE on DD Sports. It was Hockey Odisha which kept its nerves to come back into the game and win the Final by 4-3. What worked in the team's favour were Sumit Toppo's 3 individual goals leaving the opponents completely dented.
It was Hockey Punjab which took the initial lead in the game when in the 19th minute Harjeet Singh scored through a field goal. Hockey Odisha was quick to bounce back as they leveled the scores in the 27th minute as a field goal by Sumit Toppo bore positive results. Hockey Punjab not giving up they again took the lead in the 33rd minute as Simranjit Singh ensured a quick and clean deflection into the nets leaving the first half scores at 2-1 in their favour. Trailing the game 1-2, Hockey Odisha equalized through a penalty corner leaving Hockey Punjab stunned, coming from the stick of Prakash Barla. Hockey Odisha went one up as another penalty corner in the 48th minute was converted through a clever variation and went on to take the lead in the game 3-2. Hockey Odisha added another dent as in the 61st minute as Sumit Toppo's dive to deflect the ball into the nets resulted in the team's fourth goal on the opponents. Punjab looking at minimizing the goal difference successfully scored in the 68th minute coming from the stick of Ajit Pandit. But it was too late for Hockey Punjab, as Hockey Odisha won the Finals by 4-3.
Source: Hockey India
Also Read: Odisha Hockey players win big in Men Women in first ever Hockey India Awards
Comments
comments