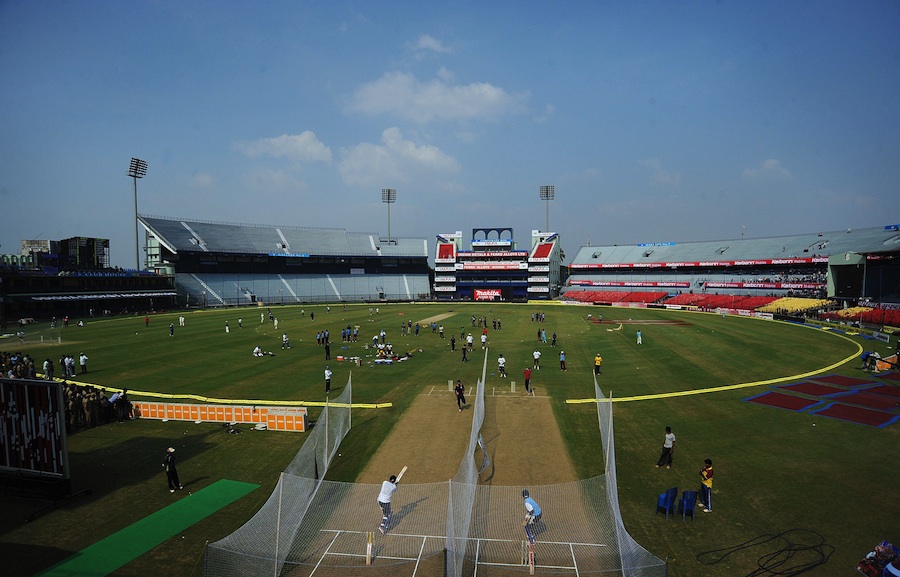 Barabati Satdium, Cuttack is in the news for wrong reasons, but it brings back nostalgic memories from past. In 1979, as a 10 year old cricket fan, I was watching a match between the touring Australian team and India at that venue. The gallery was full of transistor wielding spectators. I starkly remember during Australia's fielding, a guy shouting HE HE (hear ye) Hilditch and threw a half eaten apple towards him. (Andrew Hildtich, the Aussie player, was the solicitor son-in-law of legendary cricketer Bobby Simpson). Hilditch returned the compliments gesturing like a Monkey, hardly a complimentary one.
Mid afternoon, the Odia commentator's announcement blared from multiple transistors, "CHA PAANA BIRATI", or Tea Break. The person who was next told me nonchalantly , that the players will go outside for tea and chew a few betel leaves (PAAN) during this break, hence the name "CHA PAANA BIRATI". I believed him and imagined Alan Border along with Kim Hughes going out to a Kiosk outside and ordering GOPAL ZARDA (scented tobacco laced) PAAN, followed by a "Cutting Chai", brewed from a coal oven. However I took it for granted that Rabi Panda, a player representing Odisha those days probably be doing so.
Less than three years later came January 1982 and I came back to the same venue to watch the first ever One Day International match in Odisha. This game was unique and one of it's kind. For the first time an international match involving team India was going to be played at the picturesque stadium. India's opponent, a formidable English side, with star studded players, which included the likes of Botham, Gooch, Gower and Willis.
Enthusiasm was building up in anticipation of the match. There was a huge demand for the tickets, selling like hot cakes. My father managed to get couple of them, giving an ardent cricket fan in me the most cherished opportunity of life time. The demand was so huge, that a few government officials were openly selling their passes in the black market.
My heart was pounding fast with unbridled excitement. Now I am going to actually see those I see regularly on Sportstar, Sportsweek and Sportsworld, the popular Sports magazines of the time.Finally the D-Day arrived. We got up early at 4 AM and proceed towards Cuttack, as we were told in advance that there were many fake ticket holders. It was wise for us to get inside the stadium before it got full. (Later I learnt that thousands of spectators with valid tickets were denied entry into the stadium. Ineptness of the authorities 30 plus years ago was replicated again, yesterday.)
The match commenced on time. There was no TV, but dad's friend who was one of the commenters in Odia, showed me the TV cameras. I gaped at them. (TV hasn't yet come to Odisha and won't come until the month of November, the same year, thanks to the Asian Games). I had my pocket transistor with me. England batted first with the Oriya commentary blaring " GOOCHA AAU COOKA (Gooch and Cook in Oriya accent) THIA HOICHANTI AAU MAHANADI PATU KAPIL DEV ASILE( are standing and from Mahanadi rive side Kapil Dev is walking in).
At lunch we helped ourselves with cold Puri and sticky Potato curry brought from home. It was a long day. India easily won the match. After the match, we came out of the stadium, squeezing our nostrils using fingers, emanating from the yellow rivulets of urine almost flooding the exit gates. Finally got back home tired, with tons of memories to cherish down the lane.
3 years later in December 1984, England was at the verge of defeat, with the dangerous Allan Lamb still at crease. It was getting dark and England's defeat was a foregone conclusion. The spectators turned on their torch (flashlights) in unison to light up the stadium, for the game to continue. I left the stadium to beat the rush so that I can be back home before the roads get crowded. On my way, I learnt that Lamb swung the match in England's way by hitting several sixes of Yashpal Sharma. That was the last I saw of Yashpal Sharma and any sporting event at that venue, Lamb ending his career for sixes for good. It was also the last time I watched any sporting event at that venue.
Comments
comments