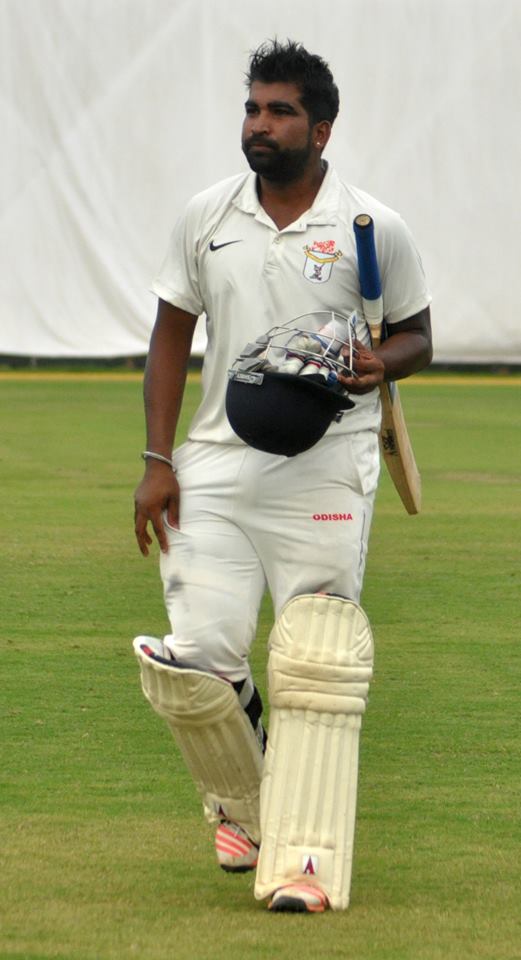 "Does the walker choose the path or the path the walker?"- Garth Nix might well have written this to describe his fictional character in his novel "Sabriel" but we all try to find the answer to this simple yet complicated question in our daily life and Anurag Sarangi will be thinking hard to find an answer to this conundrum. Good in academics, an engineer in making and then as luck had it, a professional cricketer by chance.
723 runs from 14 Ranji Trophy matches with an average of 28.92 may not make for a good read but the amount of times he has taken the team from the jaws danger to the bays of joy is worth noting down. All of it in a career which is just starting off.
For someone who hails from a state like Odisha, playing a sport professionally is tough. So, Anurag Sarangi also had to choose studies as his first priority. In his initial days, he was playing cricket for fun with his brother Angel Romi Mishra (a renowned club cricketer then). Once Prashant Mohapatra spotted the talent in him when he was playing a club match in 2010 and asked him to join in the district camp. But he was not allowed to play by the family. But Mohapatra convinced his family about his talent and took him to the state under-19 camp as well. He scored 500 odd runs from four matches but wasn't selected for the probables. "I was very fat then, might well have been the reason I wasn't selected in the probables. But I wasn't disappointed then at all as cricket was never that serious for me." He said.
After rigorous training and running, Sarangi reduced his body fat and after being selected as a catchment player for Bhubaneswar Jaguars in the first edition of OPL, he proved his mettle as a good top order batsman by scoring important runs for his franchise. He was then picked by OCA to tour Australia under the tutelage of Micheal Bevan as a reward for his OPL performances. "I was pretty nervous then. So I got out for a duck to Moises Henriques in the first match. I played a pull off the bowling off Mitchel Starc in the next match and got a bit of confidence. Then I started playing my normal cricket. I scored 30 odd in that match" he reminisced about his tour Down Under.
For the next three consecutive seasons, Anurag plundered runs in age group cricket and then carved his way to the senior team to play List A game against Tripura in 2013-14. He played a superb knock of 112 runs in the next season and was involved in a big partnership with Biplab Samantray to take Odisha to the semis in Vijay Hazare list A competition for the first time ever. He made his Ranji debut against Maharashtra in 2014 at Pune but couldn't deliver the goods. But in the most important relegation match between Odisha and Saurasthra,his patient partnership with Govinda Poddar, resulted in Odisha avoiding the relegation. In the current season, he struck a patient innings of 92 runs against Vidarbha and helped his team draw that game. His hunger for a fight on so many other occasions has made him a regular in the team now.
"I just got full time permission from family to play cricket when I made my Ranji Trophy debut." He smilingly told. "I want to deliver more. I know I am not consistent. I will surely try to score at least 800 runs in the next Ranji season. That is my aim, a bit farfetched but I want to set standards."
Growing up in his Uncle's home after losing his parents in an accident, Anurag credits them all for everything. "What I am today is because of my uncle and Aunty. They are my parents" He signed off on a smiling note.
Certainly a good prospect for Odisha Cricket!!
ABOUT THE AUTHOR :- ( Bastab K Parida, is a sports commentator and writer based on Cuttack. Apart from Sports, he also writes on sociological problems and aspects of society.)
Did you know Bhubaneswar Buzz is only portal covering Odisha to have more than 10,000 followers in top 3 Social media platforms i.e. Facebook,Twitter and Instagram
Bhubaneswar Buzz is available in 10 social media channels, check out all of them here
Like Us in Facebook to get more content like this
Comments
comments