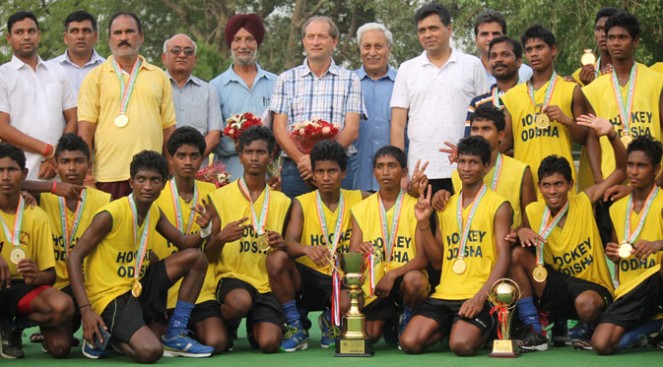 The Final day of the 5th Sub Junior National Hockey Championship 2015 (Men) today at New Delhi saw two teams playing for the Champions tag. In the earlier match of the day, two teams played for the 3rd position. It was Hockey Odisha who beat Hockey Haryana by 4-1 to emerge the winners of the tournament. Playing for the 3rd / 4th position, Hockey Gangpur – Odisha beat Hockey Karnataka by 5-3 to settle for the 3rd position.
In the final clash, Hockey Odisha defeated Hockey Haryana 4-1 to clinch the title of the 5th Hockey India Sub Junior Men National Championship. The battle between the two teams turned out to be a tough one where both the teams were striving to score from the onset but it was Hockey Odisha who showcased a good start as Ashwin Kujur netted the first goal for his team in the early ten minutes through a field effort.
The Hardline match between Hockey Gangpur – Odisha and Hockey Karnataka was an intense clash as the former managed to outwit the latter to win the game 5-3.
RESULTS OF THE DAY-
Final Hockey Odisha 4 Ashwin Kujur (10min- FG), Sudhir Kujur (14min- FG), Suman Beck (27min- PS), Pradeep Lakra (69min- FG) vs Hockey Haryana 1 Abhishek (43min- FG)
3rd / 4th Position: Hockey Gangpur – Odisha 5 Biraj Topno (11 min-FG, 34 min-PC), Nahas Barwa (38 min-FG), Mandip Kerketta (44 min-FG), Ibrahim Toppo (53 min-FG) vs Hockey Karnataka 3 Pavan M Madiwalar (6 min-FG), Likhith B. M (52 min-FG), Rajesh (60 min-PC)
Also Read: Odisha Hockey players win big in Men Women in first ever Hockey India Awards
Comments
comments