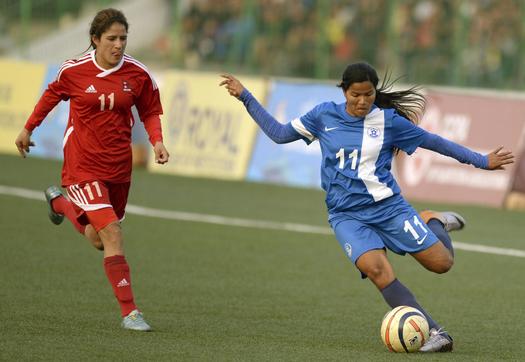 Sasmita Malik has been one of India's shining stars in the SAFF women's football championship. The 27-year-old winger's pace and trickery on the left flank has been a constant threat to the rival defenders.
Away from the hullabaloo of league mergers and world rankings, an Indian team is slowly, yet efficiently, etching a name for itself in the world of football. The Indian women's football team, helmed by coach Sajid Dar, has reached yet another SAFF women's championship final — a tournament it has completely dominated, winning all three previous editions.
One of India's shining stars in the tournament so far has been Sasmita Malik. The 27-year-old winger's pace and trickery on the left flank has been a constant threat to the rival defenders. She has already scored two goals in the competition.
Sasmita, a product of the Bhubaneswar Sports Hostel, has been a part of the senior National team since 2007, when she made her debut against Iran.
"I was always interested in football. I never bothered to venture into another game. I got my admission in the (Bhubaneswar Sports) hostel through athletics, but my coach told me to concentrate on football and try to make it to the National team," said Sasmita, about her entry into football.
Born in Aloha, a small village in Kendrapara district of Odisha, Sasmita's journey to becoming the AIFF Player of the Year in 2016 was anything but easy. "When I was in Standard IV, there was an all India football tournament in our village, which I had gone to see with my father. I saw people running around and kicking the ball, so I thought to myself, 'I can also do that'. I asked my father if I could, and he readily agreed," recollected Sasmita.
"Then, we heard an announcement saying that chairman Devendra Sharma (now MLA) wants to provide necessary kit to anyone who wants to pursue football or cricket. I enrolled but when we got home, my relatives were upset. 'Girls don't go to play', they said, and even though my father supported me, since it was a joint family, there were a lot of relatives who strongly objected.
"Thankfully, my brother, who was staying away from the family to pursue his studies, came back to our village and informed everyone that a lot of women play the game these days. He insisted that I should be given a chance," she added.
Read more from Sports Star Live
Comments
comments