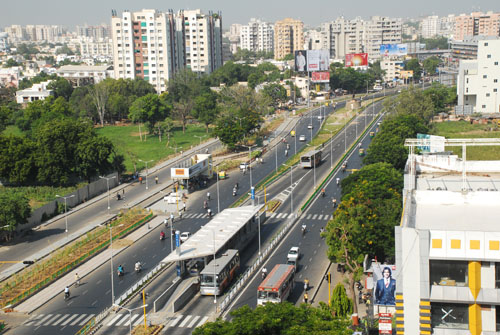 Ahmadabad-based Centre for Environmental Planning and Technology (CEPT) has prepared the detailed project report (DPR) for 60-km BRTS. 
Nandankanan would be the starting point of the new route while it would pass through Damana Square, Nalco Square, Sainik School Square, Acharya Vihar Square, Vani Vihar Square, Master Canteen Square and culminate at Sishu Bhawan Square.

Of the eight-lane roads (four each on both sides) on the proposed route, one lane in each side would be reserved for BRTS. Also, special platforms would be developed for seamless flow of traffic, officials said.

Cities like New Delhi, Amritsar (Punjab), Ahmedabad and Surat (both in Gujarat), Indore (Madhya Pradesh), Pune (Maharashtra) and Hubli (Karnataka) have BRTS.
After waiting for months for central funds under the Jawaharlal Nehru National Urban Renewal Mission (JNNURM) to introduce bus rapid transit system (BRTS) in and around the capital city, the state government has decided to go-ahead with the project from its own resources.

BRTS is aimed at reducing travel time with a dedicated lane for buses. The government has proposed to develop 13.2 km of BRTS route in the city with an estimated investment of Rs 160 to Rs 200 crore,
Courtesy: Time of India
Comments
comments