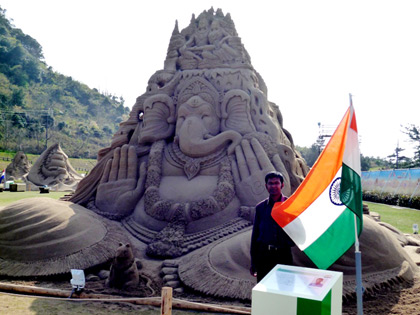 Well-known sand artist Sudarsan Pattnaik will display his craft in Gujarat for the first time during the Ganesh Utsav that begins on Friday in the Diamond City.

Patnaik will make a 15-feet sculpture at the 40X40 Alkapura Ganesh Pandal on Sumal Dairy Road from 300 metric tonne of sand. The theme of the sculpture has been kept under wraps.

Alkapuri Ganesh Mandal that invited Pattnaik to the city from Odisha has made provision of sand from Nareswar on the shores of Narmada river for the artist. Pattnaik was sent 27 different samples of sand and he chose Nareswar sand to make his maiden creation in Gujarat.

He would also make a statue of Lord Ganesh from sand next to the idol of the elephant-headed God in the pandal. This statue will be symbolically immersed by spraying water over it.

Pattnaik said, "I was to participate in the Kutch Ranotsav at the invitation of then chief minister Narendra Modi. However, I could not attend the function due to some reasons. I am happy that finally I could make it to Gujarat."

Pattnaik before coming to Surat had made a sand statue in Jagganathpuri in Odisha of Irom Chanu Sharmila of Manipur when the civil rights activist was released from custody by a court. He was conferred Padma Shri in 2014 and has won world-level sand artist contests in the USA.
Courtesy: Times of India
Comments
comments