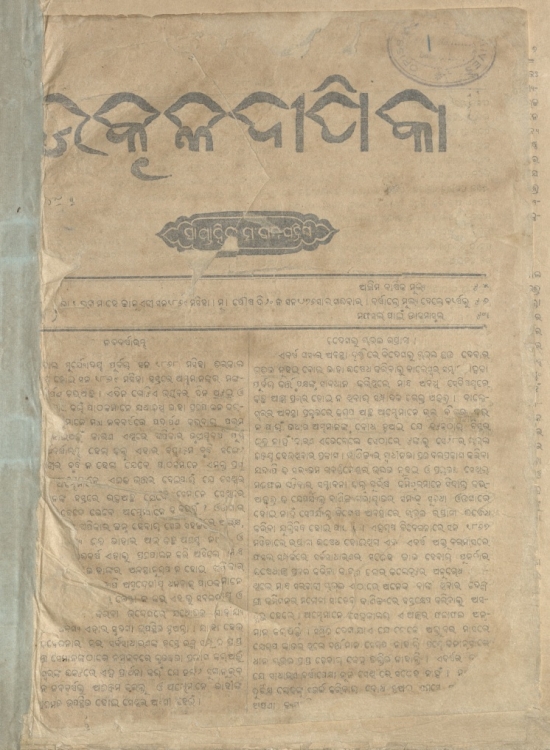 In the glorious chapters of the history of journalism in India, Odisha with her history of over one hundred years of journalism occupies a place of pride and honour. In 1662 the first newspaper of London was published. In India the first attempt for the publication of newspapers was made by an Englishman William Bolts in Calcutta in 1776. But he could not succeed due to official restrictions and obstructions. James Agustus Hicky another Englishman started the 'Bengal Gazette' in 1780.
In 1861 five years before the catastrophic famine of Orissa of 1866 the first Odia Magazine of Orissa 'Bodha Dayini' was published from Balasore. The main object of this magazine was to spread the Odia literature and to point out the administrative lapses. Then the most powerful and influential Odia paper. 'The Utkal Deepika' made its appearance in early 1866 under the able editorship of late Gourisankar Ray with the patronizing helps of late Bichitrananda Das who was the Seristadar of then Revenue Commissioner, T.E. Ravenshaw, who enjoyed the honour as the founder of the historic Ravenshaw College of Cuttack. Utkala Deepika played a significant role for the amalgamation of outlying Odia-speaking areas which remained scattered under different provincial administrations.
Odia journalism played an important role in moulding socio-political within of the province several and in awakening the people's consciousness in particular. In those days the great men who had pioneered this noble profession in this part of the country were solely inspired by the spirit of social service and missionary zeal.
Courtesy: Govt of Odisha Data
Comments
comments