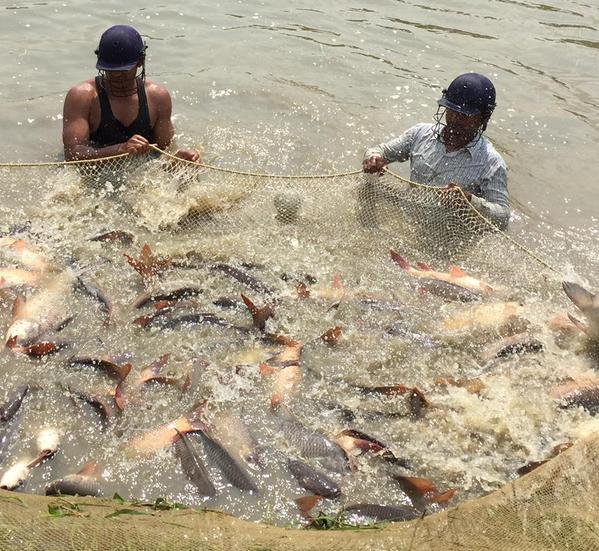 Encouraged by growth rate of 13 per cent in fish production and 26 per cent in exports, the Odisha government has announced that it will involve entrepreneurs and big firms in aquaculture in a big way by offering them half of the State's coastal land suitable for brackish water aquaculture.
At present, a total of 24,000 hectare of coastal land has been found suitable for brackish water aquaculture, and so far, 7,000 ha of area have been brought under it.
During 2013-14, the fish production increased to the highest level of 4.67 lakh MTs while export revenue earning touched the Rs. 2,300 crore-mark.
"We have drawn up an ambitious plan to double the fish production and reach an export figure of Rs.10,000 crores in the next five years. To achieve faster growth, we need to work in close partnership with entrepreneurs, big firms and corporate entities. Big firms can then take up aquaculture in a professional manner in half of the 24,000 ha of coastal land suitable for brackish water aquaculture," said Bishnupada Sethi, secretary of Fisheries and Animal Resource Development, here on Sunday.
Revising the principles of granting lease of brackish water area in Odisha, the State government said two categories of organisations and individuals would now be given lease of brackish water land. Previously, there was no clear policy on leasing out coastal land for aquaculture.
As per the latest notification issued by the Revenue and Disaster Management department in this regard, the first category of applicants include beneficiaries of anti-poverty programme, persons under BPL category, fishermen, landless persons having income not more than Rs.40,000 per annum and marginal farmers.
Besides, educated unemployed persons, Self Help Group (SHG), Primary Fishermen Cooperative Society (PFCS) and Women Cooperatives are among the first category of beneficiaries who can seek coastal land for taking up aquaculture.
But the second category of lessees includes partnership firms, technical entrepreneurs, State-owned corporations and companies or exporters registered in Odisha.
A district level committee headed by the collector will identify government land suitable for brackish water aquaculture.
"Fifty per cent of the area will be earmarked for the first category of the beneficiaries and the remaining 50 per cent of the brackish water area will be leased out to the beneficiaries of the second category," Mr. Sethi said.
While leasing out land, the preference will be given to existing farmers, technically qualified persons, trained and experienced persons.
The first category of beneficiaries will be granted coastal land from one ha to 5 ha. There has been no limit on allocation of coastal land for the second group (big firms and corporate).
The district collector can allot land up to 10 ha to corporate houses, but a State level committee can only take a call if the land required to be allotted in favour of the corporate exceeds 10 ha. The lease term has been fixed at 15 years.
We have drawn up an ambitious plan to double the fish production and reach an export figure of Rs.10,000 crores in the next five years
Bishnupada Sethi
Secretary of Fisheries and Animal Resource Development
Source: The Hindu
Comments
comments