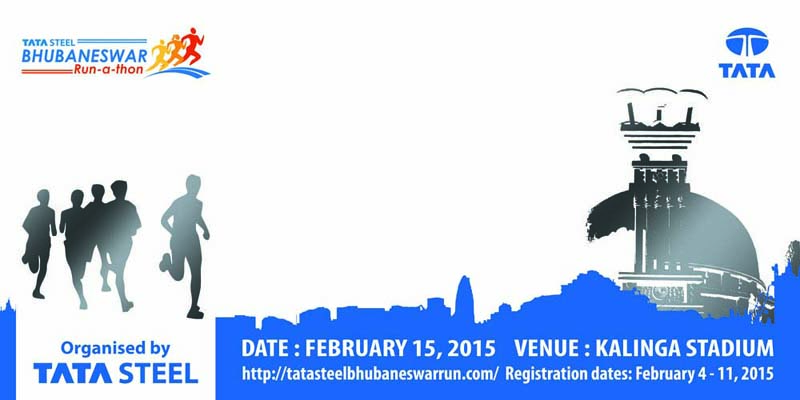 With an objective of boosting all round health and promoting spirit of sports in Odisha, Tata Steel today signed an MoU with state's Sports and Youth Services Department to organise a Half Marathon on January 10.
Christened as 'Tata Steel Bhubaneswar Half Marathon', it will be a regular event every year to commemorate The National Youth Sports Day, a company release said.
The MoU was signed by Saswat Mishra, Secretary, Sports & Youth Services Department, Government of Odisha and Sunil Bhaskaran, Vice President, Corporate Services, Tata Steel in the presence of Sananda Marndi, Sports & Youth Services Minister and Arun Misra, Vice President, Project Gopalpur and Managing Director, Tata Steel Special Economic Zone.
Complimenting Tata Steel for the initiative, Marndi said such events will promote sports culture and create better sports persons in the state.
Echoing his thoughts Saswat Mishra said the state government is keen to promote Half Marathon in Odisha as an important sporting event for which it is getting into a contract with Tata Steel for three years and over a period of time to make it an international event where long distance runners of repute can participate.
Speaking on the occasion, Bhaskaran said "we will bring world class technology and make it one of the important sporting events of the country.
Reaffirming Tata Steel s commitment to the overall development of Odisha, Arun Misra said the company will keep contributing for growth of sports in the state including marathon.
Tata Steel Bhubaneswar Half Marathon will cover a distance of 21.1 km. Starting from Kalinga stadium, the run will be headed towards Patia on Nandan Kanan road and return back and end at Kalinga Stadium to match the distance. Apart from the 21.1 kms Half Marathon, 10 Kms run for Institutions, Colleges and Corporate houses and 5 Kms run for School students (upto 12th standard) will be organised.
The reporting time for all races will be 5:30 am, the release said.
The organiser will use state-of-the-art technology consisting of 'Timing Mats' and its control units, Radio Frequency Identification (RFID) chips, split timing mats on route, tracking camera, wi-fi network on route as per international standard.
Awards worth total Rs 9,14,000 (excluding applicable taxes) will be given to winners in different categories. There will be awards in three different categories with the highest prize money of Rs 1,00,000 going to each of the winners (men and women category) of the 21.1 kms run.
PTI
Comments
comments