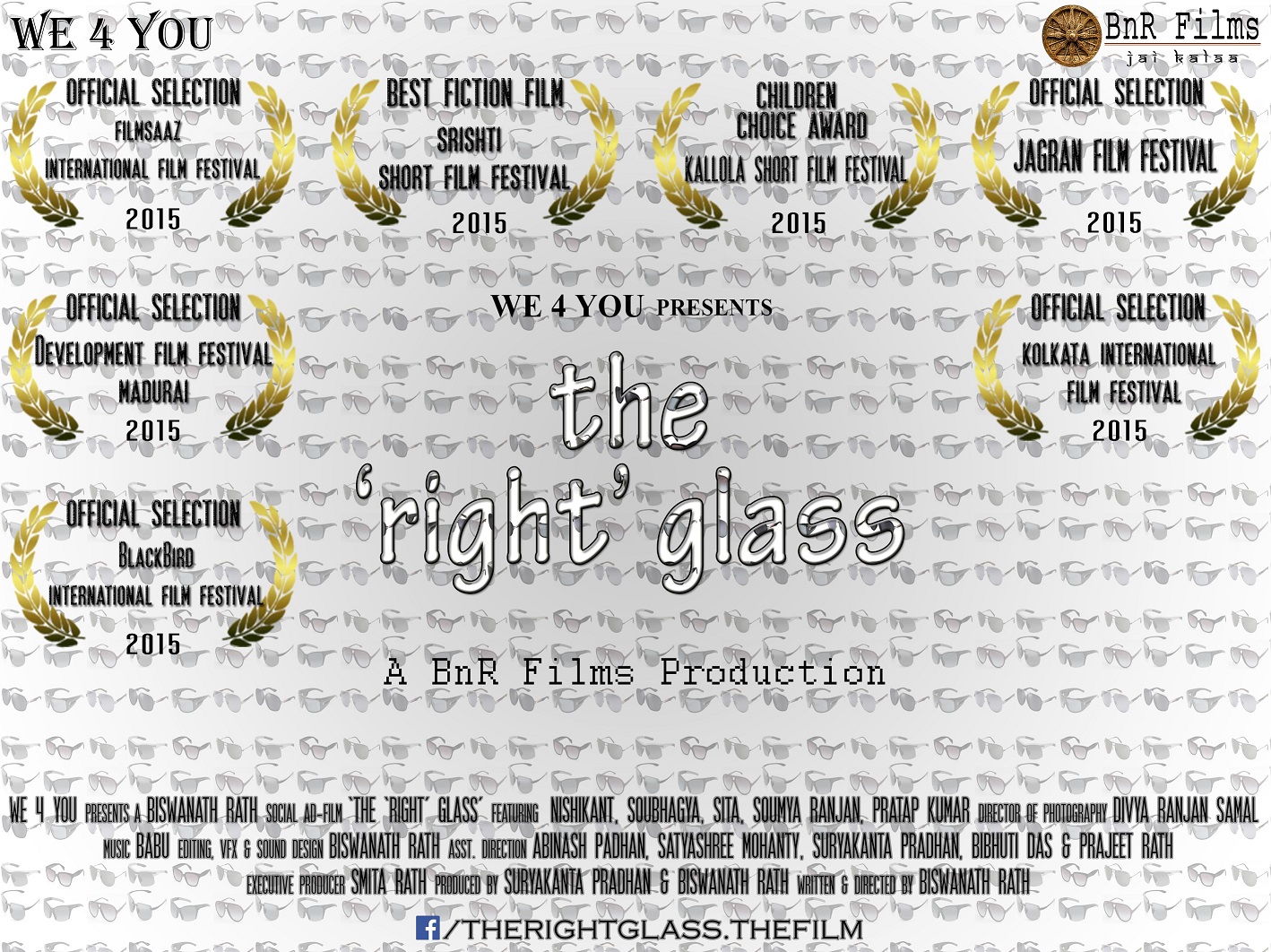 Social Ad-film 'The 'Right' Glass' written & directed by Biswanath Rath, (from Jeypore, Odisha), and produced by Bhubaneswar based NGO 'We 4 You" has received multiple awards in the International Film Festival circuit within few months of it's premiere and the filmmaker has definitely got yet another winner at hand. With a running time of just 80 seconds, what makes this film even more special is the fact that, the film doesn't contain any dialogue (silent film).
The film 'The 'Right' Glass', based on the theme 'Child Right', reminds every one of the inviolable human rights that each and every child is born with and the responsibility that each of us, as a member of family, community and society has in ensuring that no child is denied his or her basic rights. Director Biswanath says, '"Child labour is one among the many major issues related to Child Rights and happens to be the one widely prevailing.  But more than the issue, it's the ignorance of everyone towards the problem, which worsens this problem. The issue is always there, right in front of us, wherever we go, be it a village, town or city, but still seems to never exist in our conscious minds. 'The 'Right' Glass' is an attempt in making everyone realize this harsh reality of our society."
Produced in Jan 2015, first it received 'Children Choice Award' in the 'KALLOLA Short Film Festival' at Bhubaneswar (Odisha) organized jointly by UNICEF, Odisha in partnership with AAINA (an Odisha based NGO). The award was presented by Honorable Governor of Odisha Mr. S.C.Jamir. As a part of the programme, ''The 'Right' Glass" was also telecasted in a popular Odia TV Channel between 20th June and 19th July 2015.
Secondly, it has received the 'Best Fiction Film' award at SRISHTI Short Film Festival at Bhubaneswar (Odisha) organized by C V Raman College of Engineering, Bhubaneswar. The award was presented by National award-winning filmmaker and Director of Film Society of Bhubaneswar Mr. Subash Das. Popular Odia Film Actor and M.P. (Member of Parliament) Mr. Siddhanta Mahapatra and filmmaker Sabyasachi Mahapatra thoroughly appreciated this short film and its maker for the concept, presentation, direction and the underlying message in the film.
When he is asked about the significance of the title, the filmmaker says, 'Sunglasses prevents us from sun rays. Likewise, "The 'Right' Glass" prevents us from seeing/realizing the most critical right of a child: 'The Right to Education'. Interestingly, this is also my first 'silent' film. I was fortunate to have infinite support and trust of Suryakanta Pradhan (Producer), NGO 'We 4 You', Asst. Directors Abinash Padhan/ Satyshree Mohanty/ Prajeet Rath/Bibhuti Das, DOP Divya Ranjan Samal, lead actors Nishikanta Nayak, Pratap Kumar Sahoo, the child artists, Executive Producer Smita Rath, co-founder Archana Rath (BnR Films) and a really dedicated team who made it possible to shoot such a film in just 5 hours and complete the Post-Production work in a week.'
Apart from the above two, this silent social ad-film has already been 'Officially selected and screened' in a number of International Film Festivals in India and abroad. Recently, it was screened in BlackBird International Film Festival, held at New York. Prior to this, it has been screened in India's largest Film Festival 'Jagran Film Festival' organized by 'The Jagran Group'. Other major festivals in the film's journey include: Kolkata International Film Festival-2015, Development Film Festival, Madurai-2015, AMU International Film Festival, Aligarh-2015
Biswanath Rath, is a passionate writer, lyricist, actor and director who hails from Raju Street, Jeypore (Odisha). Last year, it was his debut short film 'Kar Bhalaa' (Hindi-Tamil) which won several awards (including 'Best Direction' and 'Best Short Film') and numerous nomination/screenings in 13 of the most prestigious International Film Festivals and this year his creation 'The Right Glass' seems to be doing the rounds. The filmmaker and his wife Archana have founded 'BnR Films', a Chennai based Film Production company which produces Ad-Films, TV Commercials, Documentaries, Corporate Videos, Music Videos, Promotional Films ,Short Films and feature films. All the ad-films/short films produced by the company (written-directed by Biswanath) have received huge appreciation from audience as well as critics. Presently BnR Films has got presence in Bhubaneswar, Chennai, Mumbai, Bengaluru, Hyderabad, Kolkata, Delhi, Guwahati and Pune.
The Engineer-Turned-Filmmaker has also directed the International Music Video (English) for a Mumbai based record producer named 'Purplehed' which has gone viral in social media. It has achieved a unique milestone of crossing 1 Lakh Youtube views within just 2 months of its release in VEVO Channel. This makes it the first such International Music Video by an Odia Director to have received such huge response. Interestingly the filmmaker has also directed a Tamil Music Video (for a leading Media Brand), which is also the first such Tamil project to be directed by an Odia Director.
Biswanath aims to make films with global appeal based on Indian cultures and traditions in general, Odia culture in specific. Presently he is writing the script of his first feature film. 
He can be contacted in phone/whatsapp @ +91-99625 76444 or in social media @ Facebook.com/Rath.Biswanath or via email: [email protected]
Comments
comments