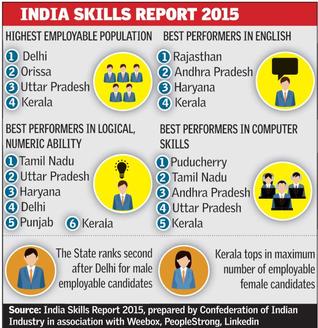 Odisha ranks 2nd in all India survery after Delhi followed by Uttar Pradesh, Kerala
on the list of top 10 States with the highest employable population, according to India Skills Report 2015. The report has been prepared by the Confederation of Indian Industry, in association with organisations such as Weebox, PeopleStrong, and Linkedin.
Data on various aspects pertaining to skills and employability were prepared on the basis of an online employability skill test among 3 lakh students on 1,800 educational campuses in 29 States and seven Union Territories across the country.
The assessment was done between August and October this year.
A cloud-based online platform was employed to assess parameters such as cognitive ability, numerical and logical ability, communication skills, and behavioural traits. Those who scored more than 60 per cent in the overall score were considered employable.
Simultaneously, a 'job prediction survey' was conducted among 125 employers, spread across 10 major sectors such as manufacturing, ITES, banking, financial services, and institutions. On an age-wise analysis, Kerala came ninth among States with most employable candidates in the age group 18-21 and eighth in the category of most employable candidates aged 22-25.
Courtesy: Hindu
Comments
comments