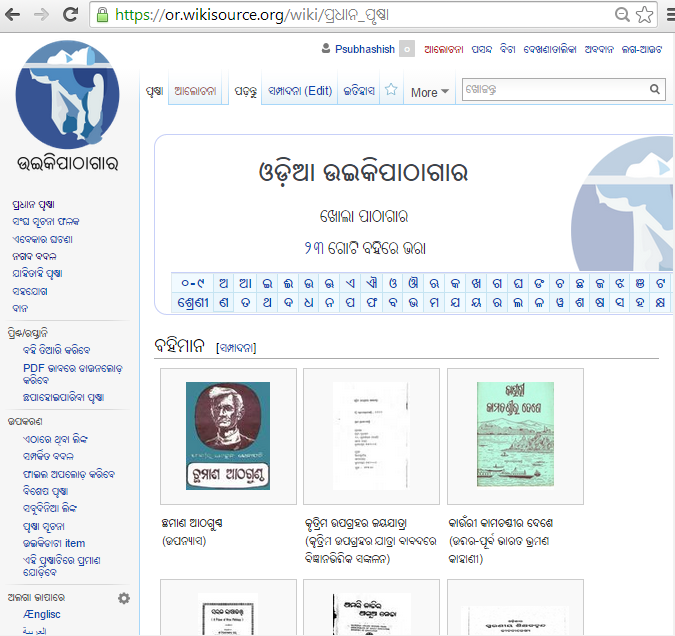 Odia Wikisource went live just before Deepavali and is now available for Odia readers who are eager to access Odia books online. There are over 40 million native Odia speakers living in Odisha and diaspora in the US, UK, UAE and other parts of the world and yet Odia Wikipedia currently only has 8441 articles (October 2014) as compared to Malayalam which has a comparable number of speakers and over 30,000 articles on the Malayalam Wikipedia.Internet is one of the largest sources of information.
Wikisource is an online library that holds notable published works that are in the public domain or are freely licensed as Creative Commons Share-Alike. Authors and publishers can now choose to donate their books and publications, and provide open access to readers.
Odia is the 11th Indic language to have this project, and is available at or.wikisource.org. Readers can now access many rare books, which are out of copyright, also reuse the content, and commercially reproduce the books with the power of.
None of the state's government portals in Odia have content in Unicode to make them searchable and reusable. The largest digital archive in Odia, a joint initiative of Pragati Utkal Sangha a Bhubaneswar based non-profit and National Institute of Technology Rourkela, created under the project Open Access to Oriya Books (OAOB) has over 740 books published between 1850 – 1950, which have been digitised. These are stored in a PDF format, which restricts searching of content.
Odia Wikisource went through a thorough and long approval process after it was incubated in late 2012, first by the Language Committee and then the Wikimedia Foundation's Board. Amir Aharoni, Member, Language Committee and software engineer, Wikimedia Foundation was of the opinion that Odia Wikisource, had tremendous potential, especially in educating children: "In schools in Odisha, are there lessons of Odia literature? If the answer is yes, then it can do a very simple thing – make these lessons more fun and help children learn more! Everybody says that in Kerala this worked very well with Malayalam literature."
More details here:
http://cis-india.org/openness/blog/odia-wikisource-goes-live
Comments
comments