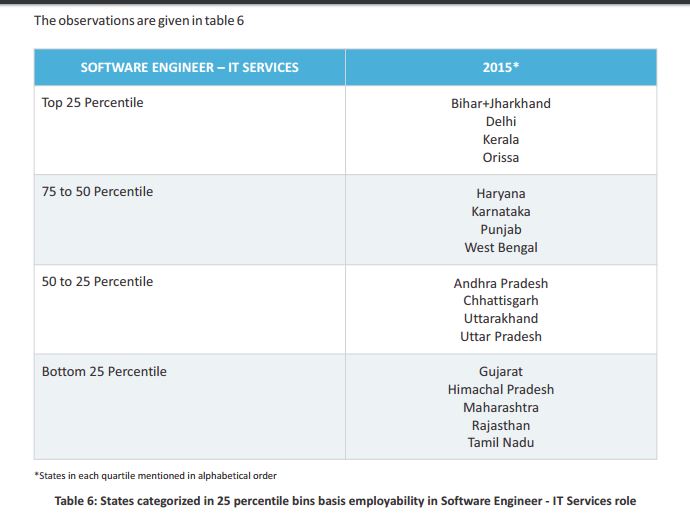 Odisha ranks in top 25% of recently released national employability report by aspiring minds.The report released by Aspiring Minds, an employability evaluation and certification company, was based on a study of more than 150,000 engineering students from over 650 colleges.
Tamil Nadu may be known for its massive number of engineering colleges, but the graduates they produce are clearly not on top in employability. Just like last year, the state ranked at the bottom in employability in the sector in the National Employability Report, 2015-16.
As compared to the report of 2014, Bihar + Jharkhand and Delhi have managed to retain their positions; Punjab has fallen to the 2nd Quartile (75 to 50 percentile bin) and Uttarakhand to 3rd Quartile (50 to 25 percentile bin). Kerala and Orissa are the new entrants in the Top 25 percentile bin. Tamil Nadu continues to lurk in the bottom 25 percentile bin, given the sheer number of engineering colleges. While Karnataka and Haryana have shifted from the 3rd quartile to the 2nd Quartile (75 to 50 percentile), Maharashtra has moved two quartile down to 4th quartile.
The rankings, divided into four sectors of 25% each, have Bihar, Delhi, Kerala and Odisha in the top 25%. Tamil Nadu figured in the last sector, alongside Gujarat, Rajasthan, Maharashtra and Himachal Pradesh.
Colleges are clearly not teaching conceptual and problem-solving skills. Rote learning is still a major issue. Less than 10% of computer science graduates were able to write programmes for companies, which is a basic requirement. One of the main reasons for poor employability is that a majority of those entering engineering don't have basic numerical skills or aptitude.
Full research link from Aspiring Minds
Comments
comments