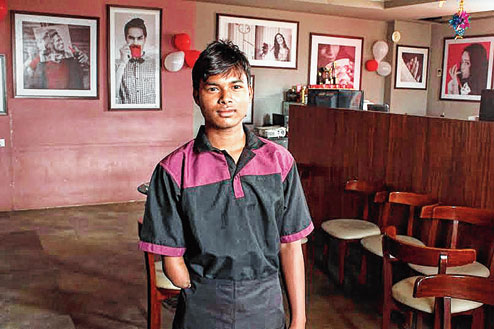 From an afternoon cappuccino to dessert espressos, Gurudev Hansdah's hearty mugs of coffee are a hit at a coffee shop at Ram Mandir Square.
What is so special about this 20-year-old is that he brews these magical flavours with just one hand. Gurudev is a differently-abled boy but has already made a massive mark by selecting the right skill training for himself and has excelled in it.
Initially, he was rejected at the first instance at a number of institutes were he went to pursue a course. The authorities felt it would not be feasible to place him in a customer-centric role. "I could hear people laughing behind my back," said Gurudev who was born with a defect in one of his hands. "It was by chance that I once entered into one of the laboratories at the Centurion University and I came to know about a course in coffee brewing. I tried my best to convince the authorities there and got admission," said the brewer.
The Mayurbhanj boy was trained for three years at one of the Gram Tarang unit and soon went on to win the Barista Championship (coffee competition).
Impressed by his performance, the authorities of the Café Coffee Day offered him a job as a brew master at its outlet on Richmond Road in Bangalore. He worked for about a year in Bangalore before joining the company's outlet in Bhubaneswar."He is amazing and brews everything from mild coffee to robust flavours with impeccable perfection. Everybody is so impressed by his work," said Anirban Bhattacharya, an area manager of Café Coffee Day.
The curriculum developed by GAP is internationally acclaimed and is currently being used at hundreds of factories in the developing world (Bangladesh, Cambodia, Vietnam, China, India, etc) to improve workers' productivity and equip them with basic life skills to help them further enhance their career in the ever growing garment industry, says Abhinav Madan, director of Gram Tarang.
Source: Telegraph
Comments
comments