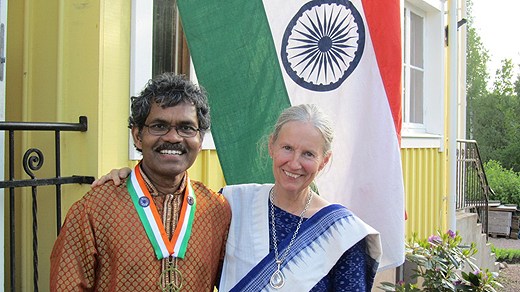 Odia love story written by famous Swedish author Mr Per J .Andersson book has become bestseller in Germany. The book is based on famous Odia artist Dr PK Mahanandia's real life story.
Dr. P.K. Mahanandia, India-born Swedish artist famous for his 4 months and 3 weeks journey by a second hand bicycle from New Delhi to Gothenburg in 1977 to meet his love Charlotte Von Schedvin.
P.K. Mahanandia was born on 1949 in an Odia weaver family, in Kandhapada village of Athmallik Sub-division in the district of Dhenkanal, Odisha,  He did schooling at Mahendra High School, Athmallik and then joined Visva-Bharati to study art, despite his selection at the art school, it became impossible to pay the fee and he had to return home.He later joined Govt college of art & crafts, Khallikote, Berhampur to study art.
Pradyumna fondly called as PK was an expert in making portraits. While studying in Delhi College of Art, he shot into fame as portraiture by drawing the portrait of Indira Gandhi. He sought permission from authorities to sit under holy fountain at Connaught Place and draw portraits. It is here that he met Charlotte a Royal Noble dynasty in Sweden and was a student in London who had driven all the way to India on a van in 22 days went to visit PK, to make a portrait of her. Making of that portrait changed the life of both as they fell in love with each other and married after. Charlotte had to return to Sweden and asked Pradyumna to come with her, but he decided that someday he would go on his own. PK and Lotta(name given by PK to Charlotte) married again in 1979. They have a son Siddharth(Karle) a daughter Emelie. They are currently living in Charlotte's home town Borås.
Also Read: Heard about this Odisha village with link to Ramayana with a 1500-yr-old Fresco art?
Comments
comments