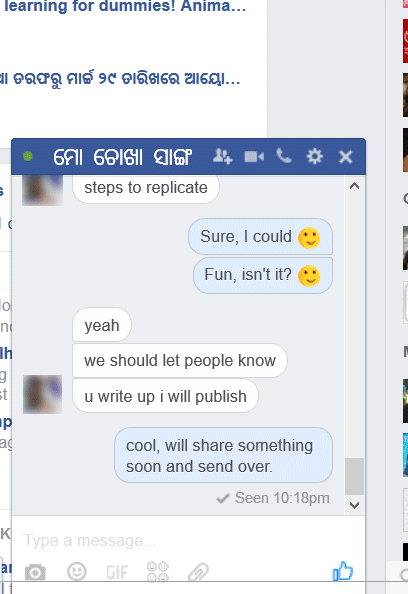 Facebook has started supporting animated images since quite some time now.  If you haven't checked it out then you can do that by starting a chat with a friend and clicking on the GIF icon located at the bottom of the small chat window. But until today, there was not even a single image related to Odisha or anything Odia. Why is so? Facebook generally depends on third party GIF animation repositories like Riffsy. Riffsy gets its animations from user contributions. So if people like you and me who know our language and state much better than anyone else don't upload animations that we care about, someone from the other part of the globe wouldn't do that for us.
I just uploaded a couple of images related to Odisha and Odia-language. And now you can follow the steps below and search for animations related to Odisha e.g. Konark, Odisha, Oriya, Jagannath and you can find relevant animations. This is just the beginning and there are many more to come. So, check the steps below, and share animations related to Odisha and Odia people with your friends.
1. Click on any friend's display picture who is online.
2. You will see a small icon called "GIF". Click on that. A small window will open showing up a few images.
3. Type the keyword you are searching e.g. Konark, Jagannath, Odisha, etc.
4. You can start seeing animations. Choose the one you like by clicking on them.
5. Ask your friend if they like it.
Author :
Comments
comments