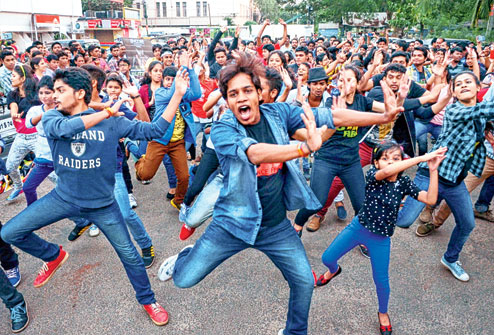 Around 120 youngsters took part in a flash mob at Keshari Talkies  and took the people around by surprise.
Co-ordinated by dancing group Anu's Dance Freak Academy, the flash mob had a purpose. It aimed to promote dance as one of the best ways to exercise.
They came in groups and kept the crowd grooving for around 15 minutes. The young performers whirled to popular Bollywood chartbusters, employing a number of international dance forms, including jazz, salsa and hip hop along with freestyle dancing.
While their performances were often interrupted by applause and cheering from the crowd, the maximum excitement was witnessed when the performers danced to popular Odia numbers Rangabati and Jai Phoola.
Many who had phones took videos and pictures and a few dance enthusiasts among the crowd joined the mob to match their steps with the dancers.
Speaking on the reason behind the flash mob, the dancer said: "If something happens by surprise, it definitely acts as a way to open minds."
While the concept of flash mobs has been quite common in the West, for Bhubaneswar, it was rather uncommon.
"It was crazy, and I was so surprised! I felt energised after seeing the performance," said a member of the crowd, 28-year-old Subhashini Mohanty.
Courtesy: Telegraph
Comments
comments