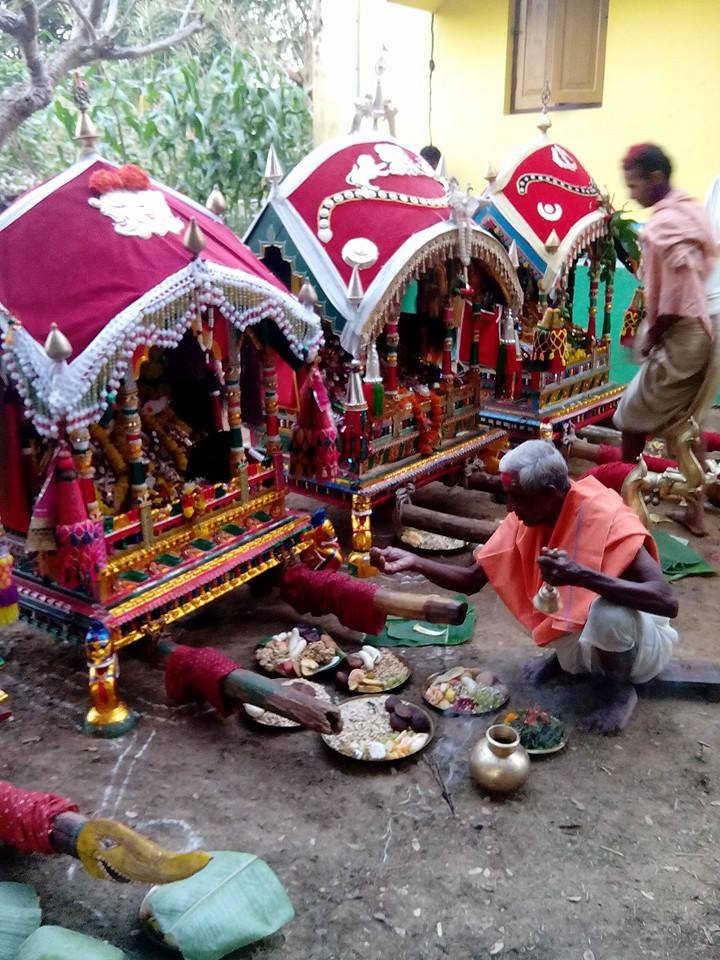 Dola Purnima is a popular festival in the coastal districts of Odisha. Lord Jagannath is worshiped as the name of Dolagovinda in this festival. On this day Oriya calendar becomes ready and it is worshiped on Dolabedi infront of Dolagovinda. It is the fullmoon day in the month of Falguna. Through the festival the spring is welcomed and enjoyed with fun and happiness. This festival has been referred as "Basantotsaba" or the spring-festival in mythology. Some scriptures testify that the "Madanotsaba", the festival held in honour of 'Madana' or the Cupid was later transformed as the "Dolatsaba" or swing-festival of Krishna. Therefore, Krishna is propitiated on this occasion as "Madanamohana". Description of the festival as Dolatsaba finds mention in a number of 'Puranas' and other Sanskrit texts. The 'Padma Purana' says, "One is expiated of all sins, who gets a vision of Krishna swaying in the swing."
An ancient Hindu myth is associated with celebration of Dola. There was once a demon king by the name of Hiranyakashyap who won over the kingdom of earth. He was so egoistic that he commanded everybody in his kingdom to worship him. But to his great disappointment, his son, Prahlad became an ardent devotee of Lord Naarayana and refused to worship his father. Hiranyakashyap tried several ways to kill his son Prahlad but Lord Vishnu saved him every time. Finally, he asked his sister, Holika to enter a blazing fire with Prahlad in her lap. For, Hiranyakashyap knew that Holika had a boon, whereby, she could enter the fire unscathed. Treacherously, Holika coaxed young Prahlad to sit in her lap and she herself took her seat in a blazing fire. The legend has it that Holika had to pay the price of her sinister desire by her life. Holika was not aware that the boon worked only when she entered the fire alone. Prahlad, who kept chanting Vishnu Nama all this while, came out unharmed, as the lord blessed him for his extreme devotion. Thus, Holi derives its name from Holika. And, is celebrated as a festival of victory of good over evil. Holi is also celebrated as the triumph of a devotee. As the legend depicts that anybody, howsoever strong, cannot harm a true devotee. And, those who dare torture a true devotee of god shall be reduced to ashes.
The procession is led by village drummers, pipers and the 'Sankirtana Mandalis'. The procession halts in front of each household and the deity is offered 'Bhog'. The daily rounds of the deity for the four days are called "Chachery". On the final day of the Purnima the celebration culminates in a swing-festival for the deities. The idols carried in Veemanas from a number of villages assemble in an important place where swings are fixed on a platform. They are made to swing to the accompaniment of devotional music sung in chorus.
Bhubaneswar Buzz is available in 10 social media channels, check out all of them here
Did you know Odisha is first in India to host Asian Surf Championship
Like Us in Facebook to get more content like this
Comments
comments